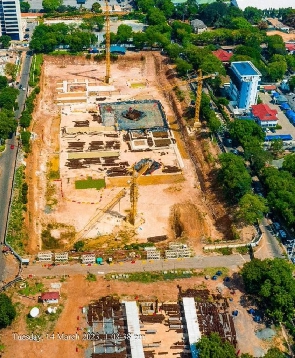 The Member of Parliament (MP) for North Tongu, Samuel Okudzeto Ablakwa, has shared an aerial view of the National Cathedral of Ghana project, one year after the project was allegedly abandoned by contractors for lack of funds.
He said that after the government spent over US$58 million on the construction of the Cathedral, the only thing Ghanaians can see is a massive pit in the capital town of the nation, Accra.

"Today marks exactly one year since the main "National" Cathedral contractor, RIBADE CO. LTD. abandoned the project & terminated its agreement with workers due to lack of payment despite govt's massive unconstitutional withdrawals. They left behind the world's most expensive pit

"First anniversary aerial photo of Akufo-Addo's US$ 58 million abandoned cathedral pit as at 13:08 pm, today, Tuesday, March 14, 2023," parts of the tweet read.

Ablakwa urged President Nana Addo Dankwa Akufo-Addo to stop the construction of the project to save Ghana some money.

"It's time for Prez Akufo-Addo to abrogate all cathedral contracts & save suffering taxpayers from paying additional suspension & standing time claims," he said.
The tweet had a supposed letter of contractors RIBADE which was titled "Notice of Termination of Appointment" and was dated March 14, 2022.

"Due to the lack of payment from National Cathedral of Ghana which has resulted in the project being suspended, RIBADE COMPANY LTD are required under the Contract to mitigate costs.

"In compliance with such an obligation under the Contract, RIBADE COMPANY LTD has no option but to in this letter of notice terminating the agreement between RIBADE COMPANY LTD and you as per the provisions of your employment agreement," the letter which was signed by the project manager read.

View the MPs post below:


First anniversary aerial photo of Akufo-Addo's US$58million abandoned cathedral pit as at 13:08pm today Tuesday March 14, 2023.

It's time for Prez Akufo-Addo to abrogate all cathedral contracts & save suffering taxpayers from paying additional suspension & standing time claims. pic.twitter.com/Ii8577UTaO

— Sam Okudzeto Ablakwa (@S_OkudzetoAblak) March 14, 2023
Today marks exactly one year since the main "National" Cathedral contractor, RIBADE CO. LTD. abandoned the project & terminated its agreement with workers due to lack of payment despite govt's massive unconstitutional withdrawals.

They left behind the world's most expensive pit pic.twitter.com/O2QnZJ4d71

— Sam Okudzeto Ablakwa (@S_OkudzetoAblak) March 14, 2023
Meanwhile, catch up on the concluding part of Francis Addai-Nimoh's interview on GhanaWeb TV below:
You can also watch this episode of People & Places here:



IB/SARA