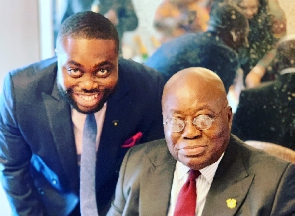 Kow Essuman, counsel to president Nana Addo Dankwa Akufo-Addo has come under fire on social media after he shared his views on the Samuel Okudzeto Ablakwa and Reverend Victor Kusi Boateng issue.
Ablakwa, who is the Member of Parliament for North Tongu has defended his decision to publish publicly private details of Kusi Boateng, a member and secretary to the Board of Trustees of the National Cathedral project.

The Reverend has in turn sued for defamation and obtained a 10-day restraining order in the High Court against further publication of his personal private information.

In offering his opinion, Kow Essuman anchored his views on the issue of privacy and reputation and how a democratic society protects same.

"The case between Rev. Kusi Boateng and Hon. Okudzeto Ablakwa has gained significant public attention; but for me it raises important questions about the protection of an individual's privacy and reputation in a democratic society.

"What safeguards do we have in our society to protect the privacy, personal data of individuals, especially persons who venture into public service?," his second tweet read.

"Should it be so easy for a private citizen to access the personal data of another citizen held by state institutions, without the consent of the affected citizen, a court order or a RTI response from the state institution holding the personal data of the affected citizen?" he quizzed.
For most people interacting with his tweets, he was off the mark for different reasons, among them that the reverend had become a public figure and was subject to all necessary scrutiny.

"Did you loose your voice or your line of thought missed the bigger picture? Data privacy yes, but what of the issue of how the NPP government registered the same person as a trustee with a different name and a diplomatic passport another name? Your concern is secondary!" Tweep @Adwoabo submitted

@Ekowskareannan cued in: "If you want a private life, you have no business being in political service Once you benefit from the taxpayer, we deserve to know I'm surprised you're arguing on this tangen."

@deemperor tweeted: "You prefer his privacy to his double identity???? No be your fault."

See more reactions below: