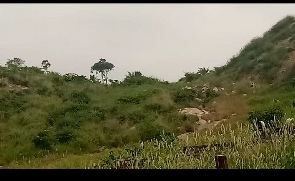 Mr. Awudu Salamy Sulemana Yoda, Director of The Environment Report, a Non-Governmental Organisation has urged the Ghanaian government to promptly revoke the new Legislative Instrument (LI) 2462, asserting that it poses a significant threat to the country's forest reserves.
He emphasised the urgent need to abolish the legislation, stating that it could lead to the destruction of various forest reserves if left unaddressed.

Addressing participants at a workshop organised by The Environment Report, Mr Yoda called on the government to repeal LI 2462 and replace it with a more effective instrument designed to safeguard the environment.

He expressed concern that the current legislation could contribute to the proliferation of illegal mining activities, posing a grave danger to Ghana's forested areas.

The workshop, organised by The Environment Report and supported by A Rocha Ghana, aimed to provide media professionals with insights into various environmental issues, including sanitation, forestry, and biodiversity.

Mr Yoda emphasised the role of the media as a crucial mouthpiece for environmental advocacy and expressed the organisation's commitment to enhancing journalists' reporting skills through training.
During the workshop, Mr Samuel Ofori, the lead Marketing and Communication Officer of Stratcomm Africa, highlighted the importance of using simple and accessible language in environmental reporting.

He encouraged journalists to incorporate graphics and visuals to effectively convey environmental stories and reminded them of the responsibility to align personal practices with environmental conservation.

Mr Albert Oppong-Ansah, a senior reporter and experienced environmental correspondent from the Ghana News Agency (GNA), emphasised the necessity for journalists to exhibit passion for environmental issues.

He encouraged reporters to engage in extensive research, broaden their knowledge base, and stay well-informed about the subjects they cover to cover them informatively and effect positive change through their reporting.

In conclusion, the call to repeal LI 2462 underscores the collective effort needed to address environmental challenges in Ghana, with media professionals playing a pivotal role in advocating for sustainable practices and policies