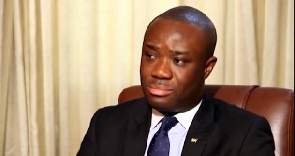 Former Deputy Communications Minister, Felix Kwakye Ofosu, has warned that there would be power crisis popularly known as 'dumsor' in Ghana should the government abrogate the AMERI Power deal.
According to him, the power stability Ghana is enjoying currently is as a result of the AMERI deal and other power barges so the abrogation of the AMERI deal will plunge the nation into darkness again.

Mr. Kwakye Ofosu gave the warning while contributing to discussions on TV3's New Day hosted by Bright Nana Amfoh on Monday.

The former Deputy Communications Minister's comments follow the police's raid in the homes of at least two former government appointees to retrieve information on the AMERI deal. Both former Minister for Power, Dr. Kwabena Donkor and his deputy John Jinapor had their homes raided last week.

The Speaker of Parliament, Professor Aaron Mike Oquaye, was compelled on Friday to give assurance that he would invite the appropriate security officials to discuss matters relating to the dawn raids of the homes of some members.

Meanwhile, Mr. Kwakye Ofosu said "if they [government] abrogate the AMERI Power deal, 250megawatts power will leave the grid and you can imagine how that will mean to us.
The stability we are enjoying now is from AMERI and other barges". He said "the manner in which the operations were carried out does show the security agencies had no regard for Parliament because they are doing so to create a problem which does not exist".

"All the documents in the AMERI transactions were handed over to the then Power Ministry and the directors of the ministry are there. Deliberate efforts were made to bastardize a smooth transactions", he added.

The former Deputy Communications Minister suggested, "what about inviting these gentlemen to ask them the specific questions on the issue? What is wrong for the police inviting them for discussions or requesting them to provide these documents?"

However, the Members of Parliament for Sekondi Constituency in the Western Region, Andrew Egyapa Mercer, said "the fact that you are an MP doesn't mean you are above the law. We are also citizens of this country. There was clear wrong doing in the dealing".

"This is a criminal investigation and the security services knowing what they do, they will do what is in the confines of the law", the MP added.