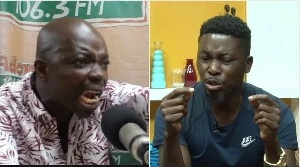 Controversial musician Kwame Asare Obeng known in showbiz as Kwame A-Plus, has taken a swipe at Brong Ahafo Regional Youth Organizer of the New Patriotic Party (NPP) Abronye DC describing him as a 'stupid talker' who has no respect for himself or anyone else for that matter.
A-Plus, speaking on GHOne's 'Dining With, Cook and Braggart' show vowed to deal ruthlessly with Abronye for accusing him of taking monies to compose a campaign song for the New Patriotic Party (NPP) during the 2016 elections.

"Abronye's shirt collar is like warehouse curtains. One will see him walking and talking by heart. When he's talking and you standing right in front of him, by the time he finishes he would have filled a whole bucket with his spit"
Abronye DC in an interview recently noted that, 'A Plus didn't contribute to NPP's victory, not even his useless songs and he is not only musician who composed a song for the party during the elections for which reason he ought to shut up or be silenced and disgraced by him (Abronye).

But A-Plus who was joined with Afia Shwarzenegger on the show hosted by Ghanaian actress Yvonne Okoro said he didn't take a penny from the NPP before he composed a song dubbed 'Aben B3 Bom' to caution some officials of the opposition National Democratic Congress for mismanaging state resources then.