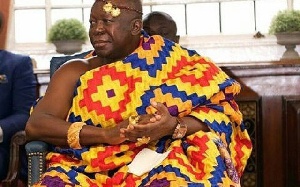 The Dagbon peace process handled by the Committee of Eminent Chiefs (CEC) on Sunday, October 29 2017 suffered another setback after the Abudu royal family withdrew from the process.
According to them, they would not participate in peace talks until the Committee of Eminent Chiefs (CEC) allows them to use the Gbewa Palace for the performance of the funeral rites of the late Ya Na, Mahamadu Abdullai – an Abudu overload – who died in the 1989.

They believe they have been unfairly treated by the Committee of Eminent Chiefs having seen to the implementation the first phase of the roadmap to peace some years ago.

The CEC, chaired by Otumfuo Osei Tutu II, the Asantehene with support from the overlord of Mamprugu land, the Nayiri, Naa Bohigu Abdulai Mahami Sheriga and Yagbonwura Tuntumba Boresa I, is mediating in the Dagbon crisis to bring closure to the chieftaincy dispute between the two gates.

The Tolon Naa, Alhaji Yakubu Alhassan Tali is expected to inform President Nana Addo Dankwa Akufo-Addo of their decision to withdraw from the process today Monday October 30, 2017.
Last month, President Nana Addo Dankwa Akufo-Addo during a courtesy call on him by the leadership of the Northern Regional House of Chiefs at the Flagstaff House, tasked them to initiate measures to have a new Ya-Naa enskinned before the Damba festival in December.

"It is now over 15 years since Dagbon has been going through all this unnecessary problems…peace in Dagbon doesn't just involve Dagbon, it involves the whole of Ghana, it is a matter of high national priority that we get Dagbon stabilized.

"Whatever formula that you the traditional rulers…you agree on as the way forward or the roadmap in resolving the crisis in Dagbon will have the full support of my government and myself. We are prepared to support fully any formula that you devise that will bring a lasting solution to the problems," President Akufo-Addo said.

But the withdrawal by the Abudu family is likely to affect the timelines issued by the President for a successor of the late Ya-Na Yakubu Andani II to be found.