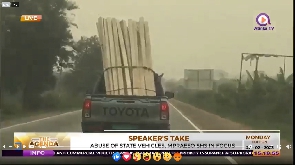 Former Bono East Regional Minister and former MP Atebubu Amantin, Mr Kofi Amoakohene, has urged authorities at Mpraeso Senior High School in the Eastern Region to bring to justice the driver of a school vehicle who used the vehicle to transport wood.
This was after a video of the vehicle was sighted by Atinka TV's morning show host, Nana Yaw Fianko.

According to Nana Fianko, the vehicle was seen on the Cape Coast-Winneba Road, which is far from the Mpraeso Senior High School, carrying a number of woods.

That, he observed, was not appropriate, questioning who approved of the act.

Speaking on Atinka TV's current affairs show, The Agenda, with Host Nana Yaw Fianko (The Speaker), Mr Kofi Amoakohene said it was not right for that particular vehicle to be used to carry wood instead of a KIA truck.

He observed that some people in society do things that are wrong, but they always blame the government.
According to Mr. Kofi Amoakohene, when the same vehicles are auctioned, those who buy them maintain them so that they can use them for 10 years, questioning why they misuse them when they belong to the government.

Meanwhile, he was of the belief that the culprit must be punished so that it will serve as a deterrent to the rest moving forward.

He also urged all to be responsible citizens, especially when it comes to using state properties.

"At least in the next few days, something should happen for people to see, and we have to treat it with contempt so that it will serve as a deterrent to others," he said.

For his part, the Member of Parliament for the Gomoa East Constituency, Desmond De-Graft Paitoo, observed that some people have become lawless because the laws are not being enforced in the country.
He expressed worry about how people misuse state vehicles, saying that if there was an accident, the school would cry on the government to purchase another vehicle for them.

He also called for a probe into the matter.

"It is important for us to know, at that moment, who was using the vehicle." "Who sent him, and what was he using it for?" he quizzed.

Watch video: