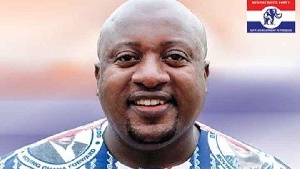 A member of the Communications Team of the opposition New Patriotic Party (NPP) Henry Nana Boakye affectionately called Nana B has charged the electorate to accept freebies doled out to them by members of the ruling National Democratic Congress (NDC).
He has however advised them not to be persuaded by the gifts and should endeavour to vote against them in the upcoming polls.

According to him, the NDC led by president Mahama is distributing gifts of all kinds to some individuals just to win their votes.

'Accept the goodies they give you and vote against them, the money is tax payers' money, so just accept it,' he urged.

A report by Ghana Integrity Initiative (GII) disclosed that the president and members of NDC are engaging in serious vote-buying ahead of December polls, saying government is abusing his incumbency.

Speaking on Abusua FM's Abusua Nkommo hosted by Kwame Adinkrah, the NPP stalwart entreated Ghanaians not to ignore gifts donated to them by supporters of the NDC.

He claimed that president who has already seen his downfall has developed some tactics to outwit the public.
Nana B wondered why president Mahama refused to solve pertaining issues bedevilling Ghanaians all these years.

'Why didn't he support the poor when they were in dire need of support? Why now, the items distributed will it help solve Dumsor, pay bills, create employment, President Mahama has realised that he will lose the elections so has schemed plans of wasting state monies by distributing basins, money, matches, iron rods, roofing sheets, cars, bread to people, just to win votes,' he alleged.

The member of the NPP communications team urged Ghanaians not to sell their conscience for peanuts, entreating them not to be deceived by their promises.

He further admonished the electorate to vote massively for the Flagbearer of NPP Nana Addo Dankwa Akufo -Addo in December polls.

'NDC and President Mahama have failed Ghanaians, we need to part ways with them, vote for Nana Addo and NPP,' he encouraged.

Juxtaposing Ghana to Nigeria, he observed that former President Goodluck Jonathan also distributed stuffs to section of Nigerians but he was voted out, urging Ghanaian electorate to adopt that style and show the NDC the door.