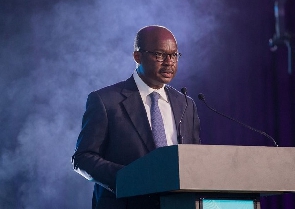 Bank of Ghana Governor, Dr. Ernest Addison, has underscored the importance of providing inclusive access to a wide range of financial products and services to all in society.
He believes that FinTechs have a critical role to play in improving the lives of a segment of the population which are unbanked and underserved although they are experiencing formal fund transfers and payments through mobile money.

Speaking at the Ghana Fintechs Award 2022 in Accra, Dr Addison commended the efforts made by FinTechs over the years toward increasing financial inclusion and empowering persons economically.

"However, access to savings, credit, and investment remains a challenge. People must be able to save to take care of future needs, invest and access credit to meet pressing needs or seize opportunities to expand their businesses," he noted.

He, therefore, called on FinTechs to take advantage of the challenge to provide innovative solutions to address these besetting constraints to fostering a truly financially inclusive society.
Touching on the gender dimension of financial inclusion, Dr Addison noted that although there has been a reduction in the gender gap in account ownership across developing countries, the latest 2021 Global Findex Report, paints a deeply concerning picture which needs to be addressed.

"Women dominate the micro, small and medium-size enterprise segment which constitutes about 90 percent of businesses in Ghana. Consequently, the gender gap has far-reaching implications for output growth, employment generation, societal welfare, and economic and financial empowerment."

"This is without a doubt, a fertile ground for FinTech intervention that promises very high dividends. Several types of businesses including agriculture, manufacturing, distribution, transportation, retail, and wholesale are represented in this category and require user-centric solutions to make any meaningful impact," the BoG Governor explained.

MA/FNOQ