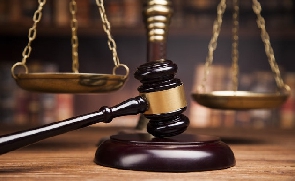 Thu, 21 Sep 2023 Source: GNA
An Accra Circuit Court has granted bail in the sum of GH¢100,000.00 to an accountant for issuing a dud cheque.
Kwabena Asante Baafi is to provide three justifiable sureties.

He has denied the offence.

The court, presided over by Susanna Eduful, ordered the prosecution to make its disclosure and file witness statements.

It is to be served on the accused person before October 30, 2023, the next adjourned date.

Police Chief Inspector Christine Bansah told the Court that Mr Osei Amponsah Brobbey, the complainant, is a public servant residing at East Airport Residential Area-Spintex, a suburb of Accra.
She said Baafi is an accountant and resident of Abokobi Oak Villa Estate in Accra.

On March 14, 2022, Baafi rented a Toyota Land Cruiser Prado with registration number GW3625-16 for a fee of GHC500.00 per day in Accra to enable him to accomplish tasks related to his business.

According to the prosecution, Baafi promised Emmanuel Nkwa, an employee in charge of the car rental service, that payment for the usage of the car would be made by the end of March 2022.

Based on the assurance, the employee called to inform Lieutenant Commander Kofi Amponsah Duodu, the owner of the car rental company, who accepted the offer.

She said Baafi failed to fulfil his part of the bargain and requested more time to pay for the rental whilst he kept using the vehicle.
In September 2022, Lieut. Cmdr. Duodu directed Brobbey, his cousin and complainant in this case, to accompany Nkwa to fetch the vehicle from Baafi and collect his money.

After meeting and engaging Baafi in his home, the accused called the owner of the rented vehicle and issued a cheque for GHC60,000.00 out of the GHC88,500,00 accrued from the rental of the car to the complaint.

She said Baafi asked Brobbey to cash the cheque on September 21, 2022.

On September 23, 2022, Brobbey presented the cheque to the Ridge branch of the Republic Bank for the amount to be credited into his savings account with the bank.

The bank notified Brobbey on September 26, 2022, that the cheque could not be cleared because Baafi did not have funds in the account.
She said Baafi was informed of the development, and he asked Brobbey to present the cheque on September 30, 2022, and January 30, 2023.

However, on all occasions, the cheque could not be cleared.

The case was reported to the Police, and after investigations, Baafi was arraigned.
Source: GNA