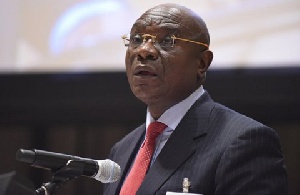 Indications are that Speaker of Parliament, Edward Doe Adjaho, is likely to receive the flagship award of his alma mater, Accra Academy, this coming Saturday.
The award, dubbed the 'Founders' Platinum Award', which is the highest the school gives is reserved for persons, parents, Bleobii (Academicians), staff, heads of associates of the school who have achieved sterling performance in any field that impacts on Accra Academy.

Others include the 'Silver & Gold Award', with Platinum being the highest award.

But, speculations are rife that among the names being bandied around as likely recipients of the prestigious 'Platinum Award' ceremony scheduled to come off this Saturday at the Banquet Hall of the State House is Doe Adjaho.

The event which will be the 85th Accra Academy fundraising dinner dance and founders awards night will be the climax of the year-long 85th anniversary celebrations of the school launched in September 2015.

Public Relations Officer (PRO) of the Accra Academy Old Boys Association, Nii Maale Adsei, said the founders' awards was established during the 70th anniversary celebration of the school to honour individuals who have shown active participation and keen interest in the school's affair as well as exhibited distinction in a chosen field of endeavour.
"It took the personal sacrifice and vision of the four founding fathers – KG Konuah, JA Halm Addo, GN Alema and SN Awuletey – who were all below the ages of 30 years to establish a school for brilliant but needy students in the Accra enclave who could not afford what the Mfantsipims, Achimotas and Adisadels were offering," he said.

Nii Maale reiterated that the Accra Academy stands as a success story of that vision carefully nurtured by devotion, dedication, discipline and perseverance.

"Many old students of the school occupy enviable positions in and outside the country-public servant's diplomats, politicians, eminent jurists, doctors, engineers, university professors, lawyers. Name any profession and you will find a Bleoobi there," he reiterated.

Touching on the event, the PRO said everything is set for a glitz and glamour night and the organisers are promising a seamless event.

He advised all old boys to patronise the tickets and take the fundraising seriously, "since that's the only way we the old students can contribute to ameliorate the inadequate but pressing needs of our alma mater."