General News Mon, 29 Oct 2018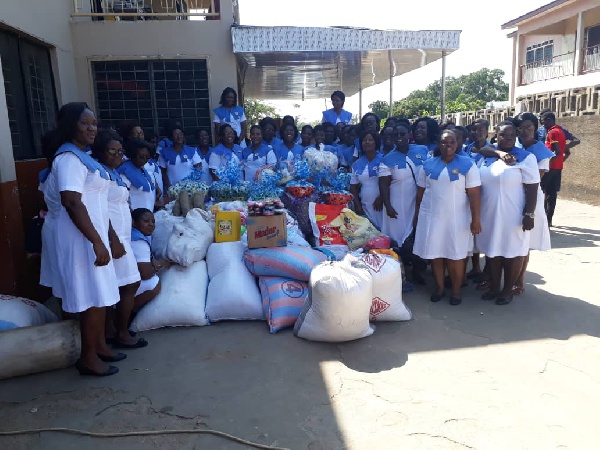 The Accra East 'District One' Ladies Auxiliary of the Knights of St. John International, last Saturday, presented assorted items to the Great Mission International Children's Home at Nungua in Accra.
The package included bags of maize, rice, gari, beans, tubers of yam, vegetables, gallons of cooking oil, clothing, and an undisclosed value of the cheque.

The donation, estimated at Ten Thousand Cedis (GHC 10,000), formed part of the group's annual charity project held in the month of October.

Mrs. Francisca Adorkor-Khein, President of the Association, noted that the children's home was identified after members assessed the needs of facilities within their catchment area.

As "soldiers of the Catholic Church," she said the Ladies Auxiliary was committed to supporting the less privileged, as it was part of their core values.

Mrs. Khein added that the outreach will be extended to other individuals and vulnerable groups in society.
She also urged other organisations not to relent in their effort of showing compassion to the needy.

The Great Mission International Children's Home was established 12 years ago and was providing shelter for about 72 children at the time of the visit.

Malvin Arthur, a Nursing Officer, who received the items on behalf of the founder, Mr. John Alonyo Nyavor, said the facility was facing a myriad of challenges.

One of the setbacks, he explained, was difficulty in finding a permanent residence for the children.

"Where we are now is a rented place and we are trying to build a permanent home for the children at Dodowa in Accra, "he said.
"We are also embarking on other educational projects in the Volta and Central Region," he added.

The children's home, according to Mr. Arthur, was also lacking regular support from the Department of Social Welfare although it sought shelter for some trafficked children.

He, however, noted that the limited staff available will continue to support and provide "hope and joy" for the children.

He further expressed gratitude to the members of the Knights of St. John International, and urged other benevolent entities to extend a helping hand.
Source: Robert Dela Mawuenyegah