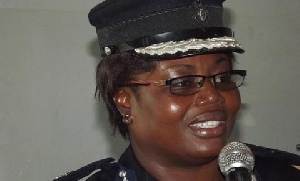 The acting Director General of Police CID, Mrs Maame Yaa Tiwaa Addo-Danquah, who was accused of a cover-up in the investigations into the corruption allegations against Ghana's two deputy chiefs of staff, has been promoted for the second time in a month.
Mrs. Addo-Danquah who is currently an Assistant Commissioner of Police (ACP), will from November 1 move to the rank of Deputy Commissioner of Police (DCOP), which is the second highest in the country's Police ranks, 3news.com can authoritatively report.

The latest promotion comes a week after she was promoted to head the Criminal Investigations Department of the Police Servicing in an acting capacity, following the retirement of her boss, COP Bright Oduro. Her appointment to take up the top job was met with stiff opposition from civil society groups some of which threatened to petition the IGP over her conduct in the investigations of corruption against Francis Asenso-Bopakye and Samuel Abu Jinapor.

They condemned the promotion, claiming it puts the integrity and the credibility of the Police Service into disrepute, something they argue could cause people to put the law into their own hands. Executive Director of Governance Watch, Stephen Kwabena Attuh said on TV3 Midday Live on October 18 that his outfit would petition the Inspector General of Police by close of the week, to get him to reconsider the decision.

Their challenge to Mrs Addo-Danquah's occupancy of the position stemmed from a leaked audio conversation between her and musician A-Plus which revealed a possible cover-up in the report of the CID on the allegations of corruption against Ghana's deputy chiefs of staff. A-Plus alleged corruption against the deputy chiefs of staff, Francis Asenso-Bopakye and Samuel Abu Jinapor, stating on Facebook: "It is amazing how Nana [Akufo-Addo] was able to appoint two thieves whose level of stupidity is the same. Arrogant and corrupt fools".

An investigation into the matter by the Police CID however cleared the two of corruption, descrying the allegations as baseless and without basis whatsoever.
But before the dust on the matter could settle, an audiotape between ACP Addo-Danquah and A-Plus emerged on which the former appeared to confirm the corruption allegation against the two deputy chiefs of staff.




Barely 24 hours after the audio leaked, ACP Addo-Danquah issued a statement to deny the claim, noting she couldn't possibly had come to the conclusion that the two deputies were corrupt. She claimed the leaked audiotape was "doctored and or edited to achieve deliberate, mischievous and evil purpose".

Though many called for ACP Addo-Danquah to be interdicted for investigations into her "unprofessional" conduct to be carried out. However, before any such action could be taken, she was announced as the acting Director General of the Police CID on October 17, 2017 following an order to her boss, COP Bright Oduro, to proceed on leave prior to retirement.