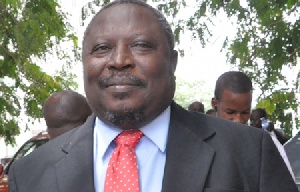 Former Minister of Defence Dr Kwame Addo Kufuor has advised president-elect Nana Addo Dankwa Akufo-Addo to take seriously his promise of an all-inclusive government.
He suggested that Martin Amidu, a leading member of the Cadres, an affiliate of the National Democratic Congress (NDC), for instance, should be considered as a minister, particularly in the fight against corruption.

"Look Martin Amidu is the Number One crusader against corruption in Ghana," the younger brother of Former President John Kufuor said.

"If the president-elect can put him in a position to help us fight corruption, I will be very happy. I believe he is the leading crusader against corruption."

Dr Addo Kufuor offered the suggestion in an exclusive interview with 3news.com's Benjamin Aidoo on Monday, December 26.

'Huge minority'
He said the percentage with which Nana Akufo-Addo won the elections requires him working with the "huge minority".

According to the former Member of Parliament for Manhyia Constituency, without winning the heart of the minority, governance will be quite a challenge for Nana Akufo-Addo.

"The problem we have in this country is that to win with 54 per cent and then the remaining 46 [per cent] feel they are not included…

"No country can prosper when we have a huge minority hovering on the fences praying and working for the downfall of government."

Dr Addo Kufuor, however, expressed optimism in the next government, indicating that as the patriot and hardworking person he is, Nana Akufo-Addo will deliver on his promises.
He says picking the "right people" will be the trump card to achieving success for the next president.

He commended Ghanaians for being discerning enough not to fall for "the propaganda" of the NDC during the electioneering campaign period as they voted massively for the New Patriotic Party (NPP).

He also heaped praises on the Electoral Commission, Ghana (EC) for yet another successfully organized polls.