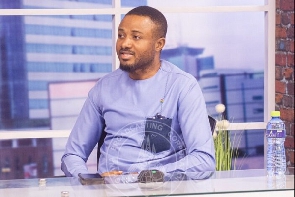 Security analyst, Adib Saani has cast doubt on the account of the Ghana Police Service about the viral video in which some police personnel were captured being humiliated by some suspected illegal miners at Axim in the Western region.
In the video the miners were heard accusing the police of extortion.

However, in a statement said at least four people have been arrested for their suspected involvement in the attack on police personnel at Axim adding that the allegation of extortion is also being investigated.

The police further added that efforts are underway to arrest the remaining suspects.

Speaking on Star Midday News with Naa Dedei Tetteh on Monday April 3, 2023, Mr. Saani requested that a holistic investigation be carried out into the incident.
"Whether the perpetrators know each other or not but from my observation I can see there is some degree of familiarity and it appears as though they also know each other and have been doing business together. But what type of business I wouldn't be able to tell.

"That is why it is critical that we don't constrict the investigation but we investigate the police as well to ascertain exactly what they were doing there and whether it was officially sanctioned and whether indeed they were given money or not," Adib Saani stated.

Meanwhile, a section of the public are also calling for an independent investigation rather than the police investigating the issue.