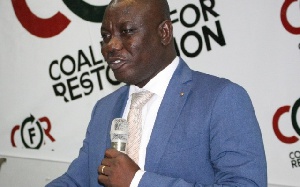 "Turning around uniBank is not a PR gimmick with one poster boy called Simon Dornoo".
These were the words of Mr Isaac Adongo for Mr Simon Dornoo, a former boss of GCB Bank, now working with KPMG, and who has been tasked by his current employer KPMG to lead the administration of uniBank.

But Mr Adongo is maintaining that Simon Dornoo, though with KPMG, is an incompetent brain undeserving of the onerous duty of turning around uniBank, promising "to release a full statement on Simon Dornoo next week".

Mr Isaac Adongo was addressing TEIN at the Tamale Technical University campus on Saturday. MYNEWSGH.com covered the program.

Mr Adongo said if the caretaker role for Unibank were to be advertised, Simon Dornoo wouldn't get the job, and though a staff of KPMG, Mr Dornoo showcased his incompetence running GCB, an appointment that was also political.

"After four years his (Dornoo's) tenure was not renewed. Dornoo came and said he was rebranding Ghana Commercial Bank. All he did was change the name from Ghana Commercial Bank to shorten it to GCB, but when you enter GCB the culture and attitude was the same", Mr Adongo alleged.
"When Dornoo left GCB, his successor Mr Agbeshie doubled the profits of GCB in one year." He added.

Explaining how Mr Dornoo came to be selected, he said:

"When KPMG got the Unibank job, they just looked at their staff and said you, you and you, come and do this job."

"Because Isaac Adongo said they should get an investment Banker with restructuring experience, they went to bring Simon Dornoo to do propaganda", he said.

"Next week, I will release a statement on Simon Donu", The Bolga Central lawmaker vowed.
"When they put Unibank in administration, I said that they were giving the Bank slow poison to die in six months. I proposed that they put together an independent three-man advisory panel to manage Unibank. They needed to get an investment Banker with experience in restructuring and turning around difficult banks. Get another economist or a banker who has Personal knowledge of the Unibank story and get a corporate lawyer".

The Bank of Ghana (BoG) has announced it has taken over the management of a private bank, Unibank.

Background

The Governor of the Central Bank explained at a press conference that the Unibank has been taken over, and the takeover is due to challenges facing the bank.

He mentioned weak supervisory standards and weak operations as the cause of the challenges.
In a statement released after the press conference, the BoG said Unibank "persistently suffered liquidity shortfalls and consistently breached its cash reserve requirement."

It said the bank has had to fall on the central bank for money to the tune of 2.2bn cedis since 2016 to enable it to operate. The central bank appears fed up with the lack of improvement in the bank's fortunes despite the bail-outs.

Ernest Addison said the bank, adjudged the 6th best performing company in Ghana at the Ghana Club 100 awards in 2017, provided inaccurate data during the central bank's effort to resolve the problems last year.

He assured depositors their money is safe, stressing "we are not liquidating the bank, we are saving it."