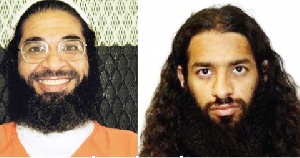 Progressive People's Party (PPP) 2016 parliamentary candidate for Obuasi East in the Ashanti Region, Frank Aboagye Denyansah has called on former President John Dramani Mahama to adopt the two ex-Guantanamo Bay detainees brought into the country while he was in office as his sons and keep them at his home.
"Let John Mahama or any other NDC member adopt them as their sons to stay with them", the outspoken PPP communicator said.

He argues that two years after their stay in the country, government must make arrangements for the detainees said to be tourists be staying with Mr. John Mahama who first struck for them to be brought into the country in the first place

The government says it is unable to immediately execute plans of repatriating the two Guantanamo Bay detainees Mahmud Umar Muhammad Bin Atef and Khalid Muhammad Salih Al-Dhuby who have been in Ghana for the last two years because of their refugee status.

The two Yemenis were resettled in Ghana in January 2016 following an agreement between the John Mahama government and the Barack Obama led-U.S. administration.

According to the Foreign Affairs Minister, Shirley Ayorkor Botchwey government will next week, bring the agreement before the house for ratification.
Meanwhile, a former Deputy Attorney General, Dominic Ayine, who time the agreement was made says claims by the government that it is unable to repatriate the two detainees because of a binding agreement between the previous government and the US is false.

Meanwhile, OccupyGhana is asking President Nana Akufo-Addo to repatriate the two Guantanamo Bay detainees because the New Patriotic Party (NPP) kicked against their stay in Ghana when it was in opposition.

Nana Sarpong Agyemang Badu said although the previous administration granted the two former terror suspects refugee status, the current government must show them the exit.

"Send them back to the US as the NPP in opposition kicked against the Mahama-led administration in opposition on their stay in Ghana," Nana Sarpong told the host of Adom FM's Burning Issues programme hosted by Afia Pokua on the controversies surrounding the fate of the two detainees.

"The NPP spoke against it strongly in opposition and now that they're in power, they should send them back to where they came from" he stressed.