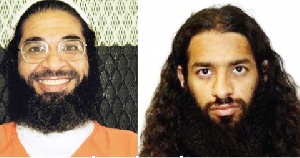 A former 2016 parliamentary aspirant for the People's Progressive Party, Frank Aboagye Denyansah, has suggested Former President John Mahama, adopt the two GITMO detainees as his sons.
According to the former PPP hopeful for the Obuasi East constituency in the Ashanti Region, since the detainees were brought to Ghana under the previous Mahama administration, it is only right that now after their two-year stay, either the president or any other member of his party, the NDC, take them into their care.

The former parliamentary aspirant's comments follow government's announcement that they will not be able to immediately execute the plans to repatriate the two ex-GITMO detainees.

Foreign Affairs Minister, Shirley Ayorkor Botchwey earlier this week, told parliament that Ghana did not have a proper plan on the exit of the ex-Guantanamo Bay detainees in the country.

"It must be noted that no exit arrangement was originally discussed, between the two governments to end the bilateral arrangement at the time of negotiation," Ayorkor Botchwey told legislators.

The latest development means Mahmud Umar Muhammad Bin Atef and Khalid Muhammad Salih Al-Dhuby, and their families become the responsibility of Ghana.
They were in detention for 14 years after being linked with terrorist group Al-Qaeda and later controversially brought to Ghana following agreement with the US government under the country's former leader, John Mahama in late 2015.

The two-year bilateral cooperation resettlement, which was ratified by Parliament in 2017 after the Supreme Court declared the initial agreement as unconstitutional, expired on January 6, 2018.

Meanwhile, the thinktank, OccupyGhana, has called on government to repatriate the two ex-Gitmo detainees, especially since the NPP protested the decision in 2016.