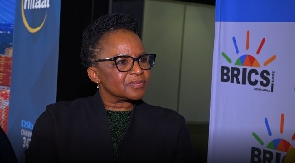 The African Continental Free Trade Area's (AfCFTA) success hinges on the continent's ability to embrace industrialisation and focus on boosting productive capabilities, Global Chair of Brazil, Russia, India, China and South Africa (BRICS) Business Council, Busi Mabuza, has reiterated.
Equally important, she stressed, is the need for collaboration and cooperation to unlock the economic potential of respective nations. Also, embracing partnerships and alliances can create new avenues for investment and mutual growth, she said.

"We cannot afford to fail in unlocking the opportunity of industrialising the African continent. It is important that we move away from extractive relationships that the continent had in the past to where our partners come and help us industrialise.

"This is because with the kind of youthful population we have – with recent reports suggesting that our population could be 1.4 billion, most of whom are young people; we need to build industrial capacity, especially if we are going to make AfCFTA a reality. To make it a reality, we need a regional value chain; we need infrastructure to enable logistics, the transportation of goods and ease of providing services," she told the B&FT in an exclusive interview.

"Most especially, we need to unlock the energy opportunity in a manner that enables a sustainable future for us," she added.
Madam Mabuza however believes that the BRICS bloc's presence is a strategic opportunity for the continent to leverage mutual benefit for growth.

"We would like to partner with African businesses so that we engage with BRICS nations on the opportunities Africa offers – especially in light of the AfCFTA. With one voice, we need to ensure that what we are asking of the BRICS nations and what we are offering them is aligned from our side as an African continent…we had better stand up and ensure we are engaging with them to ensure mutually beneficial outcomes," she said.

She further urged African leaders and the continent's private sector to stop shackling themselves to ideological constraints and work toward national prosperity.

"This is our time; we are inviting the West or the East to come and partner with us. But what I have experienced with the partnership that South Africa has enjoyed with the BRICS nations, for the past 10 years, is that the countries operate from a position of not wanting to impose their ideology, their ideas or their way of doing things on South Africa, but rather they are there to listen to us and partner for mutual benefit. So, it is important for us as a continent to be there at the table," she said.