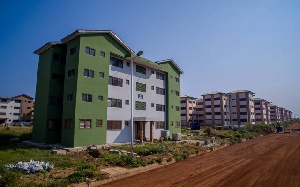 The aspirations of owning a house tops the dreams of several young workers in Ghana. But it appears what it takes to own one is becoming more and more challenging.
According to development analysts, Ghana will need to construct 190,000 to 200,000 units of houses each year for the next 10 years if the country is to bridge the housing gap.

Affordable housing has become a platitude headlined by successive governments as the best solution to Ghana's huge housing deficit which stands at an estimated 2 million housing units.

Unfortunately, though government's affordable housing units continue to suffer policy discontinuity which leaves the homes rather expensive as houses projected to be sold at 25 thousand cedis now cost some 202 thousand cedis.

The long term mortgage market is not helping matters either, posting cut throat interest rates which will only take the brave and the extremely wealthy to take advantage of.

In fact, some players in the Real Estate business estimate that some 80% of Ghanaians cannot access a mortgage as best practices postulate that your budget for mortgage and other property purchases should not exceed 30% of your income.

The situation is made worse by the growing urban drift with Ghana's urban slum dwellers expected to hit a whopping 7.1 million people in 2020 according to the United Nations Habit statistics.
This stark situation is pushing some young people like Godfred Kyei Baffour into designing simple affordable housing units for desirous home owners.

Godfred who is an architectural engineer and a green architecture advocate walks to clients; assesses their building plans and advises on how to redesign and cut down the cost.

The CEO for Oysha ventures is pushing for the state to begin exploring alternative forms of building with materials like shipping containers, aside constructing houses with concrete which comes as a huge cost.

Asked why he is not doing it on a large scale, he told reporter Ivan Heathcote – Fumador the real estate market is becoming a discouraging industry for several young persons with ideas in affordable housing simply because financial institutions are not willing to fund such ideas. He is worried this places a burden on the state which unfortunately does not have the right framework for the task.



A Civil Engineer Dr Daniel Danso who has extensive knowledge in using bricks for constructing buildings contends both government and the citizenry are to blame for the high cost of owning homes.
He outlined that high taxes on building materials and the unwillingness of the public to embrace bricks and other cheaper materials will continue to draw the nation back in its housing drive.

The cost of rent in Kumasi ranges from as low as 50 cedis a room in near-slum areas to as much as 250 cedis for a single room accommodation in middle-class zones

In plush residencies, occupants are paying as much as a thousand and over for simple apartments; some charging in dollars.

Reporter Ivan Heathcote – Fumador sampled the views of some young person's on the streets of Kumasi about their aspirations of owning homes and the factors deterring them from embarking on this venture and the conditions were not so far from the aforementioned factors.

A young journalist and news analyst Abraham Alokore explained, "The fundamental reason is the lack of home loans what we call mortgage facilities available to young people. Because of our land tenure system which vests a majority of our lands in stools and families, it also becomes difficult for a young person to acquire a land to build.

Emmanuel Adjei Solly a man in his thirties observed, "I live in an apartment now and I am paying 400 cedis as rent a month so the whole year's rent is some 4,800 cedis. How can I save to build my own? Lands and building materials are so expensive."
The UN Sustainable Goal 11 advocates that governments make cities and human settlements inclusive, safe, resilient and sustainable.

As governments affordable housing units continue to suffer the plague of policy continuity; as the mortgage market is not making it attractive to prospective house owners and the urban drift continues to fester; Ghana can only race against time to avert a housing crisis in the not so far future.



Ghana's struggling State Abandoned Housing Projects

Apart from state housing units built before the fourth republic most of which were occupied by public servants, the next biggest comprehensive Affordable housing project was initiated by former president John Agyekum Kufuor consisting of over 4,700 housing units.

From the five regions where they were initiated, namely the Ashanti, Northern, Eastern, Greater Accra and the Upper West Regions, the projects have been left uncompleted with minimal successes.
Borteyman Affordable Housing Project which was kicked off in the year 2006, hit a snag in the year 2014 and was abandoned for reason of lack of funds to continue the project with SSNIT taking over for possible completion.

The same fate bedevilled the Asokore Mampong Affordable Housing Units in Kumasi with the Social Security and National Insurance Trust taking over the abandoned projects which were occupied by squatters and criminals.

The 2,325-acre Appolonia Affordable Housing Project which was started in the year 2012 was to accommodate up to around 88,000 low and middle-income people.

The 300-acre Saglemi Affordable Housing Project sited in the Ningo-Prampram district was to deliver 1,502 houses at the initial phase but remains a white elephant riddled with controversies.