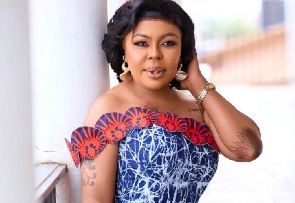 Afia Schwarzenegger has reacted to the autopsy report of the young man who was allegedly brutalized to death at the West Hills Mall, Kasoa.
Earlier, reports stated that Shadrach Arloo (the deceased), was scheduled to travel to Germany on Tuesday, January 31, 2023, but 24 hours before that journey, he had an encounter with a policeman and private security personnel that resulted in his death.

He was allegedly beaten and tased to death by one of the said men, according to some eyewitnesses.

Following the incident, the family of the deceased, specifically his 'grief stricken' sister Perpetual Didier, had taken to social media on several occasions to demand justice.

However, in the latest update, the police have released a statement that provides a different twist to what allegedly led to his death.

They shared the results of a pathology examination on social media that disclosed that Shadrach Arloo was choked by narcotics found in a black polythene bag.
"On 7th February 2023, a post-mortem examination was conducted on the deceased's body in the presence of Alfred Boafo, father of the accused, Dr Rosana Polinicio Segborwortso Pathologist of GA East Municipal hospital representing the accused, Mr Francis Xavier Sosu lawyer for the deceased, Louis Melabah Edeafor, uncle of the deceased, Isaac Anim Anno, father of the deceased and Anna Cobbina sister of the deceased.

"The pathologist gave the verbal cause of death as Asphyxiation and Obstruction of the airway by a foreign body. He also retrieved from the throat of the deceased, eight (8) zipped bags containing dry leaves suspected to be narcotic drugs tied in a piece of black polythene. The retrieved, suspected narcotic substances tested positive for cannabis when submitted for forensic examination, in the presence of all the interested parties," parts of the statement read.

This development has since stirred massive reactions from netizens including some individuals who have sensed foul play.

Afia Schwarzenegger, who also habours doubts about the pathology report, left some remarks under UTV's post, where the police's press statement was spotted.

"What a story!!" she wrote with laughing emojis attached.
Read the post below:


EB/BB