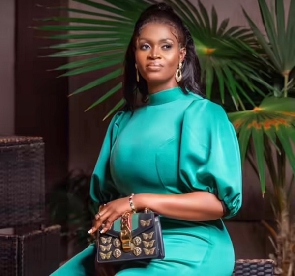 Ayisha Modi is yet to fathom how Afia Schwarzenegger, a woman who once referred to her as 'my madam' is now claiming supremacy over her with attempts to ridicule her brand on social media.
The talent manager was quick to respond to Afia's viral mockery video on April 29, 2023, where she labelled Ayisha Modi as a people-pleaser who loves to broadcast every good deed she does for her circle of friends including artistes.

Afia Schwarzenegger added that her former friend takes credit for the success of almost every popular personality in the country.

"Ayisha Modi was the one who switched on the light when God said 'Let there be light'. She is the same woman who handed the rod over to Moses to split the Red Sea...this same Ayisha formed the popular NDC slogan 'Eye Zu, Eye Za'...she also paid for the studio where Ghana's national anthem was recorded," she mocked in a post sighted by GhanaWeb.

Reacting to the insults, Ayisha Modi was quick to cite Afia's failed marriage to her ex-husband, Lawrence Abrokwa after levelling some damning allegations against her.

She also declined to clap back at Afia Schwar after her recent post, adding that, she will entertain the 'beef' only if she is paid 200,000 dollars.

Check out her statement below:
"This world no balance kraaa ooo. See who is disrespecting her all-time number 1 madam. Go and finish with Chairman Wontumi 1st and come wai. I told u to say away from me but u will'nt listen. Keep pushing me and you and ur friend will soon go to jail. Abi u know what she did and that is what u always blackmailing her with! Yooooo. Some stupid Ghanaians will come back and say Ayisha didn't try. If u worship the copse of ur later father so u think u are powerful I will also show u that am more powerful than u are , both physical and spiritual. Tell the world the information u gave about ur own friend to that great man and took a 100,000 dollars . You have done over six videos for me ungrateful soul but have u see I don't mind you? Cos I feel pity for ur kids not because am afraid to hit u back. Evidence they say don't Lie. If I want some to disrespect me , not someone I have once fed, not someone who's nakedness is all over the world on the internet, not someone who sleeps with dogs oo, I mean not someone who is a disgrace to human and society boi. Go and come back again wai. If I want someone to disrespect me not a shameless useless bitter married woman who was caught with another man (MR BLANKET) on her MATRIMONIAL BED. Sia !! As for u kraaaa dia when important, self respected woman and humans are talking just don't talk. To come live for an Animal like ur type u will have to pay me 200,000 dollars! That's the only way I will renew our fight if not go and find with Chairman. Am more and over stubborn than ur idiot pig


You can also watch some of our programmes below.






OPD/ESA