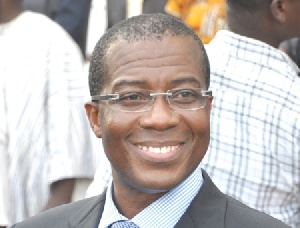 An ex-flagbearer aspirant of the New Patriotic Party (NPP), Kofi Osei-Ameyaw, has observed that until the police implicate the National Chairman of the elephant family, Paul Afoko and General Secretary, Kwabena Agyepong, in the death of the late Adams Mahama, the two cannot be compelled to step aside.
Osei-Ameyaw, who is also the Member of Parliament for the Asuogyamang Constituency said "for now, there is no evidence to implicate the two" and therefore urged the party faithful and sympathisers to remain calm.

According to the legislator, as a party that believes in the rule of law, it was important to dispel any perception linking Afoko and Agyepong to the death of the late Upper East Regional Chairman of the party and deal with the hard facts if any.

"We don't work with perceptions like it appears… no, we don't stand on it to make decisions. It doesn't work like that," Osei-Ameyaw said on Kasapa FM's current affairs programme Si Me So, hosted by Kwaku Owusu Adjei Frimpong.
He added: "Stepping aside should not be done on the basis as it appears… it should be done on the basis of facts".

Afoko and Agyepong are currently under fire from some stalwarts of the NPP to step aside until investigations into the murder of Mahama are concluded. He died last Thursday, May 21, 2015, after he was attacked with acid by some assailants.

The two have been blamed by some supporters of the party over events that happened prior to the death of the regional chairman.