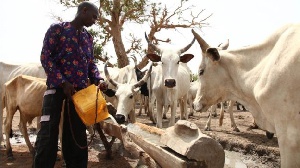 There is an imminent bloody clash between farmers and Fulani herders in Afram Plains South District of the Eastern Region.
Currently, there is escalating tension in some communities following the destruction of large hectares of farms and crops by cattle jolting in search for food as grasses wither to unappealing brown as a result of intensifying harmattan.

The aggrieved farmers have already petitioned the Inspector General of Police (IGP) and the National Security Minister for swift intervention else will invade the bush to fight and annihilate the cattle and recalcitrant herdsmen to move out from the area.

Already some farmers in Tease are before the court for killing some cattle whilst others have been fined, a situation which has infuriated the farmers accusing the local Police of being in bed with the herders against them hence fail to act when their crops are destroyed but rush to arrest farmers whenever they attack the cattle.

Reports indicate that some farmers in Aframso community are planning to launch a deadly attack on the herdsmen on Friday. The farmers are reportedly armed to the teeth ready attack the sophisticated gun-wielding Fulani herdsmen

Some of the enraged farmers in Tease the District Capital have been speaking to Starr News.
"We want National Security to come to our aid. Because we cannot look unconcerned. The only thing I think at the moment is all the Fulanis to move to the ranch to bring peace if not there is going to be chaos,"a farmer said.

"As for me, I have bought many cartridges and I have vowed to shoot every cattle seen on my farm. We are not afraid of the herdsmen, we can annihilate them from this area they are not stronger than us but we want peace, reason we want the police and National security intervene," another farmer fumed.

The Assembly Member for Ahenbronomu Electoral area, Moro Dwamena has called on the government to ensure that the herdsmen move their cattle numbering thousands to the Fodder Bank constructed to avert a bloodbath.

"The government has built a cattle ranch for all the herdsmen to send their cattle to but many of them are reluctant to go. They say their cattle will die if they go there. So we have petitioned the District Police commander. We had wanted to demonstrate against the Fulanis but the police says we should move on. Some farmers too are to be blamed because a few have sold their lands to them to feed their cattle"

Afram Plains and Kwahu areas are notorious for deadly clashes between farmers and herdsmen during every harmattan season.