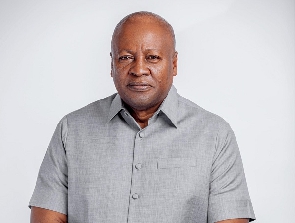 Presidential candidate of the opposition National Democratic Congress (NDC), John Dramani Mahama has urged Africans to stop tying African stories to colonialism.
The former president said though colonialism has shaped African stories, it would not be to our benefit should citizens continue to tie our stories to colonialism.

He explained that the African continent has been misrepresented and misjudged.

The situation he lamented is making it difficult for is to have constructive conversations about it.

Mr. Mahama pointed out these concerns while addressing the 2023 Humanity Summit, Faro, Portugal on September 21, under the theme, "Creating a new paradigm of trade between the Global North and the Global South".

"And yet, we do Africa a tremendous disservice to centre our stories around colonisation, to ignore or dismiss the sophistication of its precolonial empires and the success of their trade and commerce.
"While we should not centre our stories around colonialism, we cannot deny how it has shaped our stories into this present-day narrative of Africa as poor, politically incompetent, eternally developing, incapable of handling its own affairs…a place full of shithole countries.

"The point I am making is that we Africans, except Ethiopia and Liberia, have been under the consistent authority of Europeans, who were not of our land for several centuries. The African continent has been so misrepresented and misjudged that it is often difficult to have constructive conversations about it without ensuring that everyone involved has an accurate purview. So, let's agree on this: when it comes to African nations, sovereignty and independence, though often used interchangeably, are not synonymous".

"The world system has made Africa out to be the supplier of raw materials. We have been placed as the primary product exporters and finished goods importers. I worded this the way I did—placed in the position of being—because African countries hold little to no power in any part of the process.

"Through their trade and stock exchanges, the Global North determines the prices for the raw materials. African countries supply the Global North with rare earth minerals and other products and natural resources such as timber, lithium, cobalt, copper, bauxite, manganese, gold, oil, cocoa, tea, coffee, and spices," Mahama said.

"Contrary to the constant barrage of pessimistic news and negative commentary about the African continent, much progress has been made. And it will continue to be made. Look at what we have already accomplished. Moreover, time and technological advances are on our side".