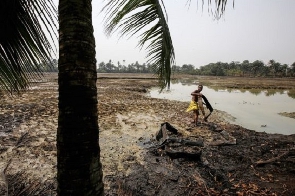 Thu, 21 Sep 2023 Source: Bloomberg
It's touted by some as possibly the world's biggest-ever deep-water oil find.
The discovery off the shores of Namibia last year by TotalEnergies and Shell of an estimated 11-billion barrels of crude has generated understandable excitement in the southern African country.

Even if only a small portion of that potential load – valued at about $1-trillion at current prices – is realistically recoverable, it holds the promise of untold riches for this nation of 2.7-million people. But given what oil finds have spawned elsewhere on the continent, it's drawing a sobering dose of caution.

"Poor management of the oil and gas sector can drive corruption and inequality that in turn will fuel social tensions and threaten political stability," Tom Alweendo, Namibia's minister for mines and energy, told an audience last month at the Mercure Hotel in the capital Windhoek. "It is imperative that the custodians of these resources possess the required skills and above all, that they have a high level of integrity."

Neighboring Angola, sub-Saharan Africa's second-biggest oil producer, has seen the vast inflows from crude sales largely line the pockets of a tiny elite with close ties to the country's former president. Mozambique, which is in the same southern region, experienced massive graft that stemmed from borrowing against gas discoveries before they were even developed; the projects have since been held up by an armed insurgency.

The corruption-infested industry in Nigeria left the Niger delta with oil spills that have made it one of the earth's most polluted areas while doing little to alleviate the poverty of local communities.

NAMIBIA GAME CHANGER

For Namibia, situated on the western coast of southern Africa and best known for its wildlife reserves and the Namib desert, the initial oil finds alone are likely to double the size of its $12.6-billion economy by 2040, the government estimates. Colonized by the Germans in the 19th century and taken over by South Africa until its independence in 1990, Namibia sees the discoveries as a game changer, with prospective projects – including the development of the Kudu gas field – potentially transforming it into a provider of power throughout the region.
But capitalizing on the bounty while avoiding the ills that afflict resource-rich countries in Africa may prove challenging. Much of the largesse from the finds will go to the government, with royalty, taxes and dividends from the state oil company accounting for 58% of each barrel of crude, according to Maggie Shino, Namibia's petroleum commissioner.

Averting the corrupting influence of the sudden flood of funds will be essential, said Graham Hopwood, executive director at the Institute for Public Policy Research.

"Resource curse is a clear and present danger for Namibia," he said in an interview. "In ten years, Namibia is predicted to be the biggest oil producer in sub-Saharan Africa after Nigeria and Angola. If we look at Angola and Nigeria, in both countries, we have a situation where over 40% of the population are severely poor."

If the government's record of utilizing revenue from mining companies is anything to go by, any oil receipts earned are unlikely to improve the lot of ordinary Namibians, critics say.

"Namibia is blessed with abundant natural and mineral resources from gold, uranium and diamonds and still has one of the world's highest rates of inequality," said Reinhold Mangundu, an environmental scientist for Saving Okavango, or SOUL. "Big cash investments from global companies are highly unlikely to reach the majority of the population."

NAMCOR SCANDAL

The government's popularity has slid, with trust in President Hage Geingob plummeting from more than half to a quarter in the seven years to 2021, according to an Afrobarometer study. The fate of the ruling South West African People's Organization party was similar.
It also doesn't help that the corporate suite at state-owned National Petroleum Corp. of Namibia has been rocked by scandal. In March, Chairperson Jennifer Comalie was arrested after drugs were found in her official vehicle parked in the company lot. She denied the charges and pointed to infighting at Namcor, as the company is called. The case comes before a court on Oct. 3, "after which the way forward should be clearer," she told Bloomberg.

In April, Namcor Managing Director Immanuel Mulunga was suspended amid speculation over payments made for an oil block in Angola. He declined to comment except to say "I look forward to return to work when the suspension is over.''

"This could go on being a reputational issue for Namcor just at the point when Namibia needs to show that it has a very stable environment for investors coming in and is making all the right moves as people get excited about all these oil discoveries," IPPR's Hopwood said. "Namcor has become a risk."

Namcor typically holds a 10% stake in oil licenses, making it a partner to Shell, TotalEnergies, Chevron Corp, Exxon Mobil Corp., Qatar Energy and any other company that participates in a project. TotalEnergies and Shell declined to comment on the troubles at Namcor.

Still, the waters of the Atlantic off the coast of Namibia have been abuzz with drilling activity, drawing multiple rigs as Shell and TotalEnergies appraise the fields to determine their commercial viability. While not all wells will pan out, the country could start producing oil by 2029 from TotalEnergies' Venus well and later from Shell's Graff find, according to Namcor.

But much of the required infrastructure has yet to be put in place. The state port company has plans for a $2.1-billion expansion to accommodate support vessels and needed upgrades. Any progression in exploiting the resources will go through the Ministry of Mines and Energy that Alweendo heads. It has a budget of under $14-million, about 40 times smaller than the comparable department in South Africa.

"Every country making discoveries like that is going to be playing catch up," said Valerie Marcel, co-founder of the New Producers Group, a non-profit initiative that helps nations lacking an established oil and gas sector. "It's not that they haven't done something properly, it's that by the nature of what happens they need to build up their capacity."
TOTALENERGIES, SHELL OIL FINDS

Excitement over the discoveries has been high. Upstream, a trade publication, predicted TotalEnergies' find alone could be the biggest-ever in deep water. The French major's chief executive officer, Patrick Pouyanne, commenting on the Venus exploration well in a presentation to investors said it "seems to be very large" or even "giant."

Dennis Zekveld, Shell's country manager at the time, told a conference in Windhoek last year that a member of the cleaning staff confronted him with a local newspaper article that multiplied a speculative number of barrels by the oil price, saying the country would be rich.

He recalled using a white board to explain to the person the realities of exploration and production. Shell's last well was a dud, showing the richness of the discovery isn't always easy to determine. "Never overpromise," Zekveld told an audience at a Cape Town event on Sept. 13.

"The problem is there are huge public expectations around oil; people have expectations that all their financial issues will be sorted out soon and it is not very realistic," IPPR's Hopwood said. "I am still not convinced we will be able to create a lot of jobs for Namibians, especially young Namibians."

Namcor sees the TotalEnergies and Shell projects creating about 3,600 jobs at their peak as the company implements training to eventually take over as an operator. TotalEnergies' activity has created more than 130 jobs during the initial exploration phase and sees increased economic pursuits for local communities, a spokesperson for the company said. Shell will prioritize local "services and skills, where possible," a spokesperson said.

Some of the urgency surrounding the projects stems from the fact that energy technologies are changing rapidly to eliminate the use of fossil fuels. At the Baleine field in Ivory Coast, Italian major Eni SpA started output last month, tapping the oil less than two years after its discovery. Until recently it was typical for a new find to take a decade or more to reach production.
Unlike in South Africa, where environmental groups succeeded in blocking drilling plans by Shell and its partners, few of the civil society organizations in Namibia "effectively participate in the national dialogue," said Mangundu at SOUL, which has questioned the process around the granting of exploration licenses to Canada's ReconAfrica.

But for Alweendo, demands from countries and global interest groups on the energy transition ignore Namibia's interests.

"This kind of a mindset is so condescending," he said. "And it shows a total lack of concern about the immense socio-economic development challenges faced by developing countries, such as ours."
Source: Bloomberg