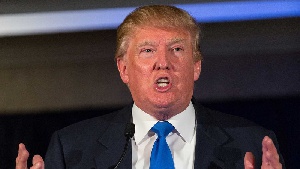 The African Union Mission in the Washington DC, USA, has asked for retraction and apology from the US government over derogatory remarks made by the US President Donald Trump, describing African countries as "shithole countries" during a bipartisan meeting.
A statement issued by the African Union Mission in Washington DC, USA, and copied to the Ghana News Agency expressed infuriation, disappointment and outrage over the unfortunate comment made by President Trump.

"The African Union Mission condemns the comments in the strongest term and demands a retraction of the comment as well as an apology not only to Africans, but to all people of African descent around the globe," it said.

President Trump is reported to have called African countries and Haiti 'shithole countries' while discussing immigration issues with a bipartisan group of senators at the White House on Thursday.

President Trump is quoted to have said: "Why do we want all these people from Africa here? They're shithole countries … We should have more people from Norway."

President Trump has since denied using such vulgar language, tweeting that 'the language used by me at the DACA meeting was tough, but this was not the language used. What was really tough was the outlandish proposal made – a big setback for DACA!'
The statement from the African Union Mission said the comment was derogatory, hatred-filled and racist and dishonoured the celebrated American belief and respect for diversity and human dignity.

"While expressing our shock, dismay and outrage, the African Union strongly believes that there is a huge misunderstanding of the African continent and its people by the current US Administration.

"There is a serious need for dialogue between the US Administration and the African countries," the statement said.

It said the African Union, through the Member States, values the strategic partnership with the US.

It said the relationship should be from the point of equality and mutual respect based on accepted international principles of respect of basic human dignity for all.
Related Articles: