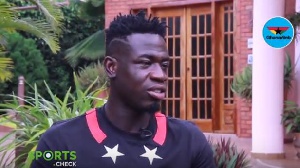 Ghana midfielder Afriyie Acquah has lamented their absence from the ongoing World Cup in Russia.
After three straight appearances at the global showpiece, the Black Stars failed to secure a ticket for this year's event following a poor qualification campaign.

Nigeria, Egypt, Senegal, Tunisia and Morocco are Africa's five representatives at the tournament.

"Ghanaians are watching the World Cup without seeing the Black Stars [and this] is very sad.

"But we have to look at the way forward and try to do everything possible to make it to the next World Cup.

"I will be very happy to play in the next edition of the World Cup with the Black Stars.
"I was part of the team that couldn't make it to Russia, and so I will be very happy to help the team make it to the World Cup in 2022."

Ghana made their debut at the World Cup in 2006, surpassing expectations to make the round of 16 in Germany.

Four year later, the Black Stars had another impressive run, this time in South Africa, as they made it to the quarter-finals.

Their last appearance in Brazil was, however, catastrophic, as they suffered a first round elimination for the first time, amid raging off-pitch issues.

Kwesi Appiah's outfit will be hoping to make a return when the next gathering comes around in Qatar in 2022.