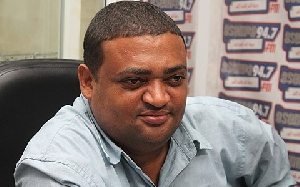 Former Deputy Minister of Youth and Sports in the previous administration, Joseph Yamin has lamed the woes of Deputy Agriculture Minister, William Agyapong Quaittoo on Dr. Owusu Afriyie Akoto, the sector minister calling on him to also resign.
"I think Dr. Owusu Afriyie Akoto as sector minister must follow suit after his deputy. …I have been in government before and I know what I am saying," he said, while commending William Agyapong Quaittoo for taking the bull by the horn to resign voluntarily.

According to Joseph Yamin, the sector minister cannot escape blame that led his deputy to resign from office following incessant demands and pressure from persons of northern extraction.

"Hon. Owusu Afriyie is the one to blame. He did not tell his deputy the truth about the fall army worms," the former Deputy Ashanti Regional accused the Agricultural Minister of misleading the farmers.

"If William Agyapong Quittoo knew the situation which is really on the ground, I think he would not have gone on that tangent to say northerners are difficult people to deal with," he stated.

The outspoken Kumasi-based politician and former Ashanti Regional Secretary of the National Democratic Congress (NDC) said he personally took offense in the comments made by the resigned Deputy Minister that northerners are difficult and insincere people.
"I am a northerner and hail from Sankana in the Upper West Region", the aspiring NDC Ashanti Regional Chairman pointed out on Kumasi-based Abusua FM's morning show hosted by Kwame Adinkra.

A group in the Northern Region rejected apology by Deputy Minister after he made ethnocentric remarks about farmers there.

The Member of Parliament (MP) for Akim Oda and former Deputy Agriculture Minister in an interview described farmers who were demanding compensation for crops destroyed by the army worm as "difficult and insincere people"

Several calls from the people including the National Democratic Congress (NDC) asked for his resignation despite his public apology.