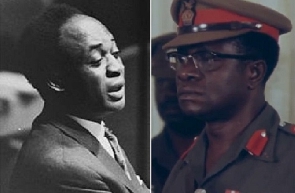 Historian and lawyer, Dr. Anokye Frimpong has explained the genesis of the name National Redemption Council (NRC), the name of the Col. Kutu Acheampong-led junta that overthrew the Kofi Abrefa Busia government.
The historian made the revelation whiles delivering a historical masterclass about how Kwame Nkrumah earned the unalloyed loyalty of Acheampong right from his days as a young soldier.

Acheampong after overthrowing the then government established the NRC which he became leader of.

"His junta he named the National Redemption Council, the redemption in the middle reflects Nkrumah's name, 'Osagyefo,' the redeemer," Dr. Frimpong submitted on the GTV Breakfast show (May 23, 2023).

How Acheampong became a pro-Nkrumah soldier
The historian detailed that young Acheampong's enlistment to the then colonial army was threatened on the day of commissioning but for the intervention of the Osagyefo at the parade grounds.

"In the early 50s when Acheampong was training to be enlisted into the army, on the day that they were to be commissioned, the colonial administration for whatever reason put aside Acheampong and decided not to enlist him.

"Kwame Nkrumah was at the parade grounds, he went straight to the young Acheampong and asked why he was sitting alone when his colleague had lined up, to which Acheampong replied to the effect that the white man said he was not fit to be in the army."

It took Nkrumah's intervention through a threat to 'injunct' the enlistment that Acheampong was included in the ceremony.
"This man (Acheampong) said to himself that I will always do whatever that is necessary to acknowledge what Nkrumah has done for him."

After the overthrow of Busia who was away from the country at the time, Acheampong took immediate steps to ensure Nkrumah returns from Guinea, where he was living in exile.

He sent medic son of the first president, Francis Nkrumah, to check on the health of his father in Guinea but he reported that Nkrumah could not come back to Ghana and attested that he will die in few months.


"Busia will go down in history as a very BRILLIANT SCHOLAR who FAILED MISERABLY in terms of politics" - Lawyer Anokye Frimpong, Historian.

Today's history lesson is ready, enjoy. pic.twitter.com/dNBmrAHXRQ

— Kafui Dey (@KafuiDey) May 23, 2023
You can also watch the latest episode of People & Places on GhanaWeb TV:





Meanwhile, watch the latest episode of SayItLoud on GhanaWeb TV below:


SARA