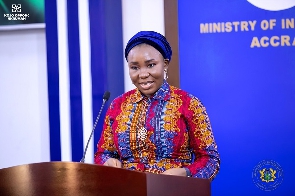 The deputy Information Minister, Fatimatu Abubakari, has stated that one of the biggest challenges confronting Agenda 111 is the acquisition of land to build the state-of-the-art hospitals.
President Nana Addo Dankwa Akufo-Addo launched the Agenda 111 project on Tuesday, August 17, 2021, pledging to build 111 hospitals across the country.

During the commissioning of the project in Trede, in the Ashanti Region, the president said, among other things, that the project would provide 20,000 jobs for health professionals when completed.

Speaking about this on Atinka FM's morning show, AM Drive with Kaakyire Ofori Ayim, Fatimatu Abubakar said, "With Agenda 111, the government envisaged that once it began, it would be completed within 18 months." Let me give you examples of why some of the projects have stalled, although 87 of them are at various stages of completion or have already started. "The Eastern Regional Hospital is far ahead; that at Asuogyaman is almost complete; go to Kpone Katamanso and see; that in my village is under construction; "Trede in the Ashanti Region, and Nantong is under construction; but there are some zones that have peculiar problems and require redesign."
She continued that, "Look at a place like the Greater Accra Region, look at Ayawaso North, which is Mamobi, Ayawaso East, which is Nima; and Ayawaso Central, which is Alajo, all they have between Nima and Mamobi is the Mamobi Polyclinic, not a district hospital, the design of Agenda 111 is that we need 15 acres of land to do a state-of-the-art district hospital that meets international standards, where are you going to get 15 acres of land at Nima? Mamobi or Alajo?"

Fatimatu Abubakar again said, "That also means that the government has to realize that some of the districts, even though they need these district hospitals, have a peculiar problem with land, so you have to re-design the hospital from the original architectural design given to the contractors across the country who are doing the same thing, which is more of a horizontal ground development for us to now look at a vertical development so that instead of 15 acres, even when you get two acres, you can change the design to fit the peculiar structure of that place, and it will affect costing and it will affect designing.

Meanwhile, Fatimatu Abubakar admitted that the cost of the Agenda 111 project might change due to the redesign of some of the projects.