General News Fri, 5 Jan 2018
Click to read all about coronavirus →
Traditional authorities in Agogo in the Ashanti region have given herdsmen seven day-ultimatum to leave the community or they would be forced to evacuate.
The decision was taken at a meeting between community leaders and the leadership of the herdsmen due to the recent incidences in the area.

Though there are no evacuation plans at the moment for the herdsmen, Ashanti region chief of the Fulanis, Osman bin Ahmed wants the traditional leaders to take a second look at the issue and deal it well for the betterment of the community.

Member of the parliament of the area, Andy Appiah-Kubi however insists "They must leave. They are nuisance to the people of Agogo and we want out."

More than 50 cattle are said to have been shot and killed by military officers deployed by the district security council.

The herdsmen say the forward is not the continuous killing of the defenceless animals but rather finding amicable resolution to end the impasse.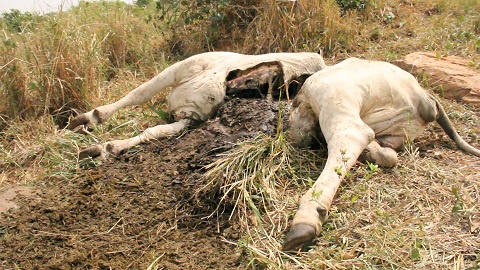 The herdsmen are being accused of destroying farms among others but they denied claims.

"There is no single day a farmer wouldn't come to my office to complain about animals destroying their crops." The District Chief Executive, Francis Oti-Boateng asserts.

But one of the herdsmen, Mohammed Abdullah Belko discounts the claims by the district chief executive saying, "There has not been any destruction of crops in recent times. If there were, I would have known." Mohammed Abdallah Belko though has his cattle all in touch, he expresses worry the manner in which the cattle are being killed.

"If there were destruction of crops, will the killing of animals pay for the destroyed crops?" He asked.

He added, "It is sad when our cattle destroy crops, but we always try our best to resolve the issue by paying for the destroyed crops."


The district chief executive however says all attempts to get the herdsmen confined their animals failed. According to him, they have also failed to follow a simple instruction by the community leaders.

The move has caused protest by the herdsmen community who accuse the military officers of using extraordinary means to evict them.

Many have condemned the killing of the defenceless animals in an inhumane way and are asking the district security council to find a lasting solution to the problem.


Send your news stories to and via WhatsApp on +233 55 2699 625.