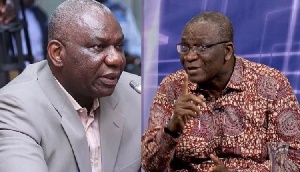 Details are emerging about how Ayawaso West Wuogon constituency Member of Parliament (MP), Emmanuel Kyeremanteng Agyarko died at the Yale Hospital in the USA after his family authorized the pulling off of his life support, a scenario widely called euthanasia or 'mercy killing' by experts MyNewsGh.com spoke to on the issue.
Euthanasia or "mercy killing" is an easy or painless death or the intentional ending of the life of a person suffering from an incurable or painful disease or injury at his or her request or sometimes by the request of his family, MyNewsGh.com learnt.

Different countries worldwide have various laws on the subject. Some consider it murderous, while other countries have legalized it under some conditions.

In an address monitored by MyNewsGh.com when a delegation from Parliament paid a commiseration visit to the family of the late MP, his brother, who is the former energy minister said his brother's untimely death resulted from an acidic reflux and a malignant gallbladder infection, and they had to pull off his life support because it wouldn't have been his wish to remain on life support at that point.

The Junior Agyarko revealed that his brother has been battling with the disease for the past three months and had to be flown outside the country due to the deteriorating health conditions.

He narrated how medical officers at Yale University tried to treat his brother's condition to no avail.
"On Sunday, he boarded a flight to the US. He began processes for admission at the Yale University Hospital, where our older sister works. One thing led to the other and quickly the situation began to unravel. Within a space of three months, a healthy body has been reduced to a cold body… the health personnel tried whatever they could.

Ghanaian doctors who realized an MP from their country has been admitted owed it a responsibility to salvage the situation. At a point, there was no way his life would be sustained. Knowing how he loved and enjoyed life, we knew very well that it would not have been his wish to be on life support."



While it acknowledged that Ghanaians are in mourning and in sensitive times, questions asked include whether if someone loved and enjoyed life, wouldn't he have loved to hold on to life to the very last minute?

Boakye Agyarko said the situation became critical that they had to use specialized equipment to support and keep the body of the former active NPP MP alive.


But then they had to let it go, he said.

"At midnight on Tuesday, the situation started unraveling quickly again. It stabilizes and unravels again. On Wednesday at dawn, his whole system began to decline, there was nothing to be done except the assistance of his own creator. At about 1: 20pm, the doctors came around and took away the life support. As soon the tube was taken away at around 7pm, he passed."