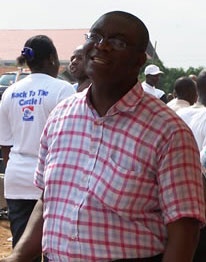 Thu, 22 Nov 2012 Source: The Republic Newspaper
Last Friday's Good Evening Ghana talk show took an ugly turn, when NPP Parliamentary candidate for Ayawaso West Wagon, Emmanuel Agyarko flipped over a harmless question asked by a student of the University of Ghana.
But for the timely intervention of some bystanders and some student audience, the former Chief Executive Officer of the Food and Drugs Board (FDB) was rolling up his sleeves to throw some blows at the NDC candidate, Kwame Awuah for no apparent reason.

Popular host of the Metro TV flagship programme, Paul Adom Otchere had taken his Good Evening Ghana show to engage parliamentary aspirants for the Ayawaso West Wuogon Constituency seat at the forecourt of the University of Ghana campus.

The candidates, Kwame Awuah Darko of the NDC, Dowokpor of the PPP and Emmanuel Agyarko took their turn to articulate their vision for the constituency and their life time achievements to inspire their followers on that part of the constituency who are predominantly students.

However, what would have passed as a beautiful encounter rather took a dramatic turn when Agyarko took things a bit more personal and threw tantrums over a quest by a lady student to know his family history.

The student who identified herself as Sena asked: "I would want you to comment about your family history and what you have for the University community because I heard that you have three wives"?

To the bewilderment of students who looked on with keen interest, the question appeared to have turned Mr Agyarko who swore to deal with the student and the NDC candidate who was backstage when the question was being asked.
Emmanuel Agyarko in an opportunity to clarify issues concerning him having three wives started abusing the poor lady with derogatory words even after he was told by the host of the programme to cease fire because the programme was live on air.

Mr. Agyarko, brushed off the advice of the host and threatened the lady with words like "do you want us to get into these things, do you want us to begin to ask about who did what among others?" As if he has a personal disagreement or grudge with the lady who asked the question.

Despite several interventions by Paul Adom Otchere to calm the situation, Mr Agyarko went ahead to tell the lady, "I am surprise that a fine lady like you will want to get into this… let me mention to you that I will deal with this." "No, no, no, let me deal with this, I don't have three wives and I think that if you ask your candidate, between himself and myself, we have decided that we would stick to the issues and leave out personal things.

You have decided to bring in the personal things… and I could say things that will probably let some people here bury their heads in the sand and never speak. When some people got selected, their ex-father-in-law called me and said lots of things," Mr. Ayarko said in an angry and violent manner.

Surprisingly, even when the host interjected the NPP aspirant to take an unqualified apology and withdrawal from Sena who subsequently apologized and withdrew the question, saying she did not mean to be personal, Mr. Agyarko continued "what does my family thing got to do with you…"

Amidst the same angry, threatening mood, he explained that he does not have three wives as is being speculated but there is nothing wrong with anybody having three wives in the country.
Source: The Republic Newspaper