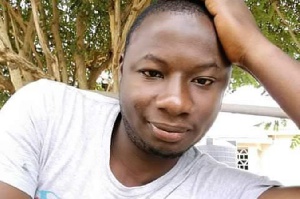 The family of investigative journalist Ahmed Hussein-Suale, who was shot dead exactly a year ago, is disappointed the state has failed to arrest the killers. Speaking at a ceremony to commemorate the death of the member of the Tiger Eye PI team, brother Alhassan Unus said it appears arresting the killers "remains a mirage and a tall order for the state".
Ahmed Hussein-Suale was shot three times by two men said to be on a motorbike near his Madina residence.

The heinous crime is believed to have been committed as a result of the deceased journalists' investigations in exposing corruption in Ghana football in 2018.

The investigations led to the resignation of then Ghana Football Association (GFA) President Kwesi Nyantakyi.

The police arrested proceeded to pick up some suspects including Mr Nyantakyi for questioning as part of investigations.

At Thursday's ceremony, the Public Relations Officer of the Criminal Investigations Directorate (CID) of the Ghana Police Service, DSP Juliana Obeng, said investigations are still ongoing as the docket on the case has not been closed.

She urged all and sundry with any information to help the police arrest the killers.
"A lot of information has been gathered and I say at this moment on behalf of the Ghana Police Service that there has been tremendous progress on this case but unfortunately there is something that I cannot share with you."

Alhassan Unus said the family thought by now closure would have been brought to the case.

"As a family, we thought by now the state could have brought the closure to this matter by arresting and prosecuting those behind such hideous and heinous crime but it appears that that remains a mirage and a tall order for the state.

"We hope and pray one day those behind the crime will be exposed."