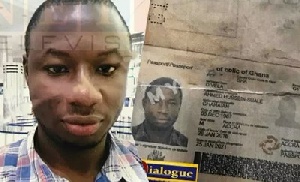 Murdered investigative journalist Ahmed Hussein-Suale never received death threats in the course of his job until his photograph and identity were exposed on television, his family has said.
Ahmed, who until his death, worked with Tiger Eye PI was shot three times and killed on Wednesday, January 16, 2019 near his residence at Madina in Accra.

His assassination came eight months after his photographs were shown on television by Member of Parliament for Assin Central Ken Agyapong who incited the public to slap and beat him up if found anywhere and that he would reward anyone who does that.

Many have since the incident that has gained international attention, claimed the MP should be invited for questioning for exposing the Ahmed to death.

Others have alos suggested he may have been killed because of his job which involves exposing corruption and ills in the country. His last job was the Number12 investigative documentary that exposed deep rooted corruption in Ghana's football.

But his family at a news conference Sunday said Ahmed who has been working with Tiger Eye PI for years but never received threats on his life until after his image was shown on live television with video circulation on social media.
"Suale began experiencing threats to his life and reports of same from his immediate family and friends, only when details of his Ghanaian Passport and Photographs was shown and widely circulated on some TV stations and in the print media and social mdia platforms.

"Right after, Suale began receiving death threats and strange occurrences around himself and his environment; developments that caused him to make several reports to the Police, an act that never saved him from the cruel hands of his assailants," the family said.

They described Ahmed's death as a huge loss to his family, especially his two wives and children.

To them, Ahned was a patriotic Ghanaian who was committed to working towards the development of the country.

"Because of his sense of discipline, honesty, hard work, patriotism and dedication to his country and humanity, Suale accepted an offer to work with the "Tiger Eye PI…"
"He worked on high profile corruption, naked thievery and embezzlement cases in Africa; risking his life through dangerous and life threatening assignments, all in the interest of his country, continent and humanity at large," they stated.

The family indicated that they will pursue issues surrounding his death in order to avert any further occurrence on other well-meaning Ghanaians whose photographs were shown alongside Ahmed.

They called on security agencies and all media associations to ensure that perpetrators of such heinous crime are brought to book.

"The family would want periodic update from the Government of Ghana and the security agencies on progress made in bringing the perpetrators to book."