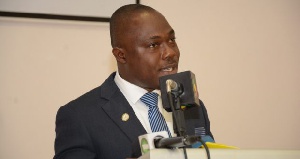 A Senior lecturer at the political Science Department of the University of Ghana, Professor Ransford Gyampo has advised the Deputy Trade Minister, Mr Ahomka-Lindsay to also resign honourably just as his colleague minister in connection to his ''whining comment''.
The political science lecturer opines that he can't fathom why the Trade Minister should still be at post after making derogatory remarks about diasporans while the former Deputy Minister of Food and Agriculture, William Quaittoo, resigned for making unfortunate statements and tendered his resignation having realized his mistakes.

Mr Quaittoo uttered certain comments about people from the northern part of the country considered as ethnocentric and later apologized over the statements.

On the other hand, Mr Ahomka-Lindsay, addressing the Diaspora Homecoming Summit at the Accra International Conference Centre in July, told the diasporans to stop "whining" about things that do not work in Ghana.

Mr Ahomka-Lindsay later retracted his comments and apologised to the diasporan community.

However speaking to Accra based Accra FM, the Professor stated that it is not too late for Mr Ahomka-Lindsay to also resign to prevent the consequences that his past comments could have on government.
For him, holding a fiduciary position of trust also means being measured and guarded in your utterances, so you don't embarrass both your appointing authority and grossly disrespecting the people you seek to serve.

"If there will be development you need people to come in and invest. A deputy minister also made unfortunate comments about people in the diaspora who were coming to invest in the economy so my view was that if this one was bad, he apologised and still resigned… What is bad is bad. It's not about it being past, he should also resign to send a message to others that if you are given authority it does not mean you should disrespect everyone.

"People in power must be measured and avoid utterances that disgrace your party, government and the person who appointed you," he noted.

He said for Ghana's democracy to mature and for citizens to be governed well, there should be elite consensus on what must not be condoned and tolerated.

"When these are flouted, we, irrespective of our partisan colouration, must say no!"