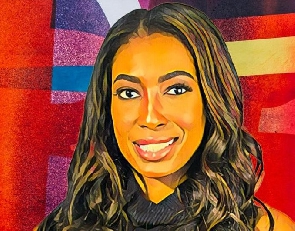 In a groundbreaking achievement, Aisha Bowe, the first Black woman confirmed to travel to space on a commercial flight, has recently secured a contract worth nearly $1 billion from the U.S. government.
The Bahamian-American aerospace engineer, former NASA rocket scientist, and founder of STEMBoard, has been awarded the contract through her joint venture, Exacta Solutions, with the support of STEMBoards.

The National Geospatial-Intelligence Agency (NGA) has entrusted Exacta Solutions with a $947 million contract to provide comprehensive support for NGA's total lifecycle acquisition management, strategic financial management, and business management activities.

This significant milestone will strengthen Bowe's company and further its mission of partnering with government agencies and organizations to tackle complex challenges and shape a better future.

In addition to her entrepreneurial endeavors, Bowe has already made history as the first black woman confirmed to fly with Jeff Bezos' Blue Origin commercial spacecraft company.

The upcoming 2024 trip will make her only the sixth black woman in history to travel to space, joining the ranks of distinguished NASA astronauts Stephanie Wilson, Joan Higginbotham, Jessica Watkins, and Sian Proctor.

Bowe's passion for empowering students in STEM education is also evident in her creation of LINGO, a self-paced coding kit that has garnered significant recognition.
With over $1.6 million raised, LINGO has already reached more than 5,000 students in 10 countries, including partnerships with tech giants like Microsoft and collaborations with nonprofits, HBCUs, and federal organizations.

The coding kits are readily available at major retailers like Amazon, Walmart, and Target.

Bowe's journey from a community college pre-algebra class to becoming an astronaut and a successful entrepreneur has captivated audiences worldwide.

Her inspiring story has been featured in numerous interviews and presentations, gaining attention from prestigious media outlets such as Entrepreneur, Fast Company, Wired, and The Tamron Hall Show.

And the recent documentary "In Her Element," which can be viewed on popular streaming platforms like Amazon Prime, Google Play, and Apple TV showcases Bowe's remarkable achievements and tireless efforts to inspire and uplift marginalized communities.