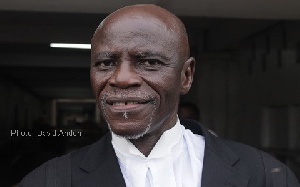 Sat, 17 Aug 2013 Source: joyonline
A key member of the petitioners' legal team battling the results of the 2012 elections has criticised Dr Nyaho-Tamakloe for suggesting that the NPP sidelined the chairman of Legal and Constitutional Committee in the person of Ayikoi Otoo, when it was constituting the team to battle the results of the election petition.
Akoto Ampaw said the comments by the NPP founding member were "uncalled for" and completely "diversionary."

Dr Nyaho-Tamakloe made the headlines this week when he called for the resignation of the convicted General Secretary of the NPP, Kwadwo Owusu Afriyie.

He said the humiliation suffered by Afriyie, popularly called Sir John, when he appeared before the Supreme Court on charges of contempt is so embarrassing he should not continue to play his role as General Secretary of the party.

The enigmatic founding member of the NPP also waded in another controversy when he suggested that Ayikoi Otoo, former Attorney General and Chairman of the Legal and Constitutional Committee of the NPP was initially part of the petitioners' legal team, but was eliminated.

Tamakloe has since been met with venom by some of the members of the NPP.
On Joy FM and MultiTV news analysis programme, Newsfile, on Saturday, Akoto Ampaw, who is now the spokesperson of the petitioners, said the comments by Nyaho-Tamakloe were not necessary.

"To what purpose is that comment," he questioned, especially when the case has ended and judgement is at hand, he added.

Akoto Ampaw said he is not a member of the NPP, but stated in law, clients choose their lawyers. He was chosen by Nana Addo to be part of the team.

He said the NPP as a party may have a legal team, but the 2012 campaign team of Nana Addo may also have its own legal team. The petition arose as a result of the campaign, he noted.
Source: joyonline