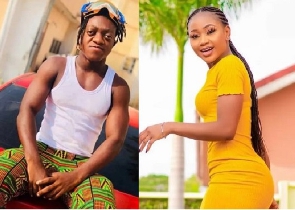 Ordinarily, social media sensation, Akuapem Poloo would have capitalized on the recent attack on her person by actor Sumsum Ahoufe to be in social media trends.
She would have dropped many videos to reply to his claim of making her popular and the fact that she has become pompous in recent times.

In a strange turn of events, however, the budding actress has made a post on her social media platforms indicating that she will not waste her time on Sumsum.

Akuapem Poloo shared a snippet of the interview Sumsum granted Nana Romeo of Accra FM on her Instagram page on Friday, April 28, 2023, and laughed off all the claims he made.

She further indicated that the Kumasi-based has been trying his possible best to get her attention since 2019 but it has all proven futile because she does not have his time.

The mother of one also set the records straight on how she became popular by stating that it was rather the popular ghost blogger, Thosecalledcelebs who made her popular in 2018.
Her full post reads: 'Since 2019 this boy has been trying so hard to get attention by insulting me on radio interviews to get my attention but it's fine haha I understand the game so I still won't mind him cus I became Akuapem poloo 2018 through a blogger called @thosecalledcelebss so what is this boy sitting there saying lol I'm home laughing like killer'


You can also watch some of our programmes below.