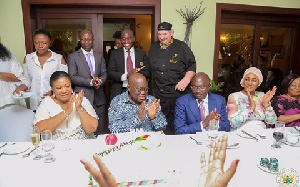 The Vice President, Dr Mahamudu Bawumia has wished the President, Nana Addo Dankwa Akufo-Addo long life with good health on the occasion of his birthday.
Dr Bawumia tweeted: "Happy Birthday to my Boss, the President of the Republic of Ghana, Long life with good health. God bless you Mr President H. E Nana Addo Dankwa Akufo-Addo."

The First Lady, Mrs Rebecca Akufo-Addo and the wife of the vice-president Mrs Samira Bawumia also in separate tweets wished Nana Akufo-Addo a happy birthday.

Nana Akufo-Addo who turns 74 today, was born in Swalaba, Accra. He was brought up in Ga Maamli (Accra Central) in the Nima area of Accra.

He first run for president in 2008 as flagbearer of the NPP but was beaten by the late Prof John Evans Atta Mills. His second attempt in 2012 was also unsuccessful. He was beaten by ex President John Mahama.

He was chosen as the NPP's candidate for a third time in the 2016 elections and defeated incumbent John Mahama in the first round (winning 53.85% of the votes) which was an unprecedented defeat and the first time in the history of Ghana.
Happy birthday my dear Monsieur.???? pic.twitter.com/SjLiYDUYM1

— Rebecca Akufo-Addo (@RAkufoAddo) March 29, 2018
To a visionary whose love for his country and people is unrivalled, we wish you the very best of today @NAkufoAddo.
Happy Birthday. pic.twitter.com/7WJ04HlkjH

— Samira Bawumia (@SBawumia) March 29, 2018
President Akufo-Addo's key flagship programme, Free Senior High School Education, was launched in September 2017 to make secondary high school free for students in Ghana.
His vision is to see a Ghana beyond aid in the nearest future.


Happy Birthday to my Boss, the President of the Republic of Ghana, H. E @NAkufoAddo .

Long life with good health.

God bless you Mr. President#HappyBirthdayMrPresident pic.twitter.com/m2dMIUqxqi

— Dr. Mahamudu Bawumia (@MBawumia) March 29, 2018