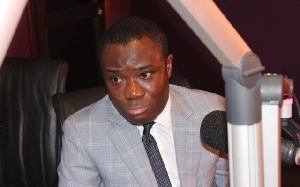 President Nana Addo Dankwa Akufo-Addo and Vice-President Dr Mahamudu Bawumia deceived Ghanaians into voting for them into power by levelling corruption allegations against the Mahama administration in the lead-up to the 2016 elections, Mr Felix Kwakye Ofosu, a former Deputy Minister of Communication, has said.
According to him, the then-presidential candidate of the New Patriotic Party and his then-vice-presidential candidate as well as other officials of the party threw unsubstantiated allegations against the past government with careless abandon.

In Mr Kwakye Ofosu's view, the NPP is now shifting the goalpost after coming into office.

His comments come on the heels of hints by Dr Mahamudu Bawumia that corrupt officials who served in the Mahama administration will soon face prosecution, saying, "Ghanaians will find out more soon as people are held legally accountable."

The Vice-President dropped the hint in his response to former President John Mahama's accusation that he brought President Nana Akufo-Addo embarrassment by awarding a $2.5million contract to local IT firm Vokacom to develop a "419" application called GhanaPostGPS to be used for the national digital addressing system, when that same app was available on Google for free.

In his response, Dr Mahamudu said, among other things that, unlike the Mahama administration which was neck-deep in corruption, the Akufo-Addo government is above board.

He said Ghanaians will soon get to know more about the corruption that took place under the Mahama administration.


But speaking in an interview with Valnetina Ofori-Afryie on Class91.3FM's 505 news programme on Monday, 6 November, Mr Kwakye Ofosu said: "It's been eleven months since they have been in office and nothing has been done about the corruption claims. If they did not have watertight evidence that could pass legal matters, what business did they have labelling the NDC government as corrupt?

"Is it not an admission that he was completely clueless about what he was talking about? They have only met with reality and like I indicated in the AMERI deal, they cited fraud in the deal, now they have written gross misrepresentation of facts. It should tell you that they misled everybody who believed in them."