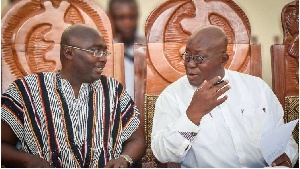 The then opposition New Patriotic Party (NPP) in the run-up to the 2016 elections was reckless in its promises made to Ghanaians only for the reality to dawn on them upon assuming power, 2016 flagbearer of the National Democratic Congress (NDC) has observed.
Former President John Dramani Mahama who insists the NPP lied its way into power says such a conduct is dangerous for the country's democracy urging his political opponents to tell the people exactly what they can do rather than engaging in wholesale falsified promises.

"It is easy to win elections on sweet promises and a lot of unprincipled politicians do that. There is a saying and I am sure some of you might have heard it…if there is political power and you have to sell your mother, sell your mother and when you win you go and buy her back. I say we in NDC are principled we will never sell our mother for political power", he disclosed to cheers from party supporters MyNewsGh.com.

In his view, the NDC as a party will not give fantastic promises for political power as was the case of the NPP indicating that the party tells Ghanaians the truth and stands by what it is capable of doing.
"We will always tell Ghanaians the truth. We will always say what we can do for them and when we say what we say what we can do and promise, we will deliver.

One of the major reasons why we lost the 2016 elections is that our opponents were reckless in terms of their promises. Anybody goes and sleeps and wakes and says we can build a factory in every district", he mocked.

According to him, some of the promises made on campaign platforms were not thought through yet gave Ghanaians a litany of promises they are currently grappling with to achieve.