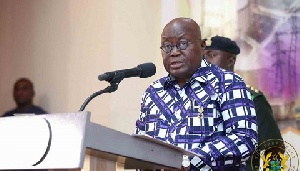 President Nana Addo Dankwa Akufo-Addo has underscored the need to harness technology into the nation's judicial system to enable speedy justice delivery.
According to him, law and order is the foundation of every organisation, adding that, there is the need to adopt innovation that would enhance the work of the judiciary.

Nana Akufo-Addo lauded the implementation of the electronic register system which has so far recorded 1,500 cases and also welcomed the Ghana integrated case tracking system that would seek to contain all relevant information in relation to a case.

He indicated that such technological innovations would help ensure transparency, accountability and more importantly reduce corruption in the country.
The President was speaking at the opening of this year's national conference of the Ghana Bar Association (GBA) held in Koforidua in the Eastern Region on Monday, 10 September 2018.

The conference was on the theme: "The impact of technology on the practice of law: to move with changing time."