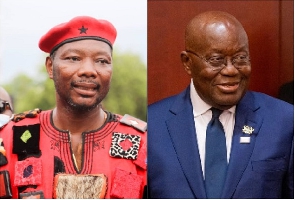 Former National Chairman of the People's National Convention (PNC), Bernard Mornah, has accused President Nana Addo Dankwa Akufo-Addo of denigrating the image of the presidency of Ghana.
According to him, President Akufo-Addo has now resorted to begging world leaders to help Ghana with the county's huge debts.

Speaking in an XYZ TV interview, on Wednesday, February 8, 2023, which was monitored by GhanaWeb, Mornah alleged that President Akufo-Addo recently begged the foreign minister of Germany to plead with the Chinese government to give Ghana more time to repay its debts.

"It is so sickening that when you have messed up the economy to this extent, the president will again decide to debase the Office of the President.

"When the finance minister of Germany came to Ghana for a visit, our president told him to go and beg China so that they will forgive some of Ghana's debts. This is what the president told the finance minister of Germany.

"He did not even call the Chancellor of Germany who is his counterpart… when you (Akufo-Addo) were going for the loan did you call the German foreign minister? When you were telling us that you were doing bauxite for infrastructure did you go to tell the Germans," he said in Twi.

The former PNC chairperson said that rather than the government engaging the Chinese directly on its debts, the president is "going round calling subordinate ministers to go and talk on his behalf".
"You (Akufo-Addo) are reducing the presidency," he reiterated.

Watch the interview below:



You can also watch this edition of People & Places on GhanaWeb TV:



IB/WA