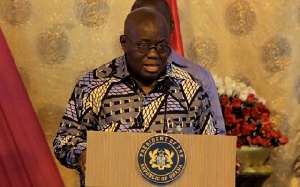 President Nana Addo Dankwa Akufo-Addo has employed Ghanaians to render his government the needed support to turn the fortunes of the country around.
He reiterated that government is committed to revamping the National Health Insurance Scheme such that every Ghanaian will have access to quality health care for free.

Speaking at the Fiave Global Evangelical Church in Ho as part of his two day visit to the Volta Region, the President advised the people of the region to take advantage of the planting for food and job program as a source of good food and employment.

Radio Ghana's Correspondent, MacLean Nordzi reports that, President Akufo-Addo joined hundreds of worshippers at the Global Evangelical Church to fellowship.
His visit coincides with the climax of the National Delegates Conference of the Men's Fellowship of the Church.

The President, Nana Addo said Ghana will soon stop importing food stuff and produce what it consumes locally.