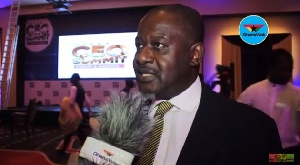 A private legal practitioner Kwame Jantuah has described President Nana Addo Dankwa Akufo-Addo as a leader who says nice things during speeches but lacks the ability to implement them effectively.
Speaking on Accra-based TV3, the lawyer noted that the President is good at wooing the public with nice words but when it comes to practising the policies, he fails.

"He [reference to the president] might say these nice things, he might be copying others but he does not know how to do them, unfortunately. Why should we find ourselves where we are today, why? With all the natural resources we have in this country, why should we be where we are today," he asked.

He continued to explain that the president has not shown commitment to revamping the economy as the persons who failed to manage it are still at post despite plunging the economy into an IMF programme.

"It is the leader who has to direct and if the leader has put certain people in place. And if those people aren't acting, you move them. Has he changed his cabinet since 2016, has he changed his ministers since 2016? [Nyasa w) h) yi, eni nnpia baako trem to wit one person is not a repository of wisdom]. And you are trying to tell me that the people who are there and have been there all these while and things are working. Is the country working?

To him, the president transcends the generations from the early days of the country's democracy till date but has failed to utilize this expertise to unite the country to development.
"Let's be practical, is the country working? If it was working, we will not be having the kind of employment figures we have. We won't have an education system where you can't employ people who have been to the university. And I keep saying, President Akufo-Addo is one man who transcends generations and should understand generations of my father, generations of the coup time and now, he is one man who could have united this country, has he done it? No, the party comes first," he added.



Share your news stories and ideas with GhanaWeb




To advertise with GhanaWeb


You can also watch the latest episode of People & Places:





NW/OGB