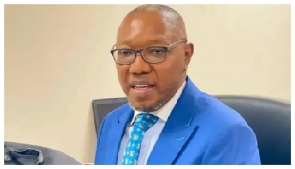 Dr. Clement Apaak, the Member of Parliament for Builsa South, says the free senior high school policy, which President Akufo-Addo prides himself on, is collapsing.
He has therefore advised the President to, with immediate effect, review the policy to prevent it from collapsing.

Dr. Apaak, who is a Deputy Ranking Member of Parliament's Education Committee, noted that this administration has refused to take the needed steps in reviewing the policy.

He said in any serious administration, the leader ought to review a major policy such as the free SHS.

"Every individual who is well versed in policy formulation and implementation should review a policy after three years of implementation. You do so by engaging the experts who have insight into the said programme. That is a review that some mistaken for a cancellation. The review of the policy should have been done three years ago, but this president has refused to do that."

"Every stakeholder in the education sector, including NAGRAT, GNAT, CSOs, religious organisations, and others, has called for a review. Two years ago, the President stated that if necessary, the policy would be reviewed. I expected him to instruct his Education Minister to organise a national forum after making that statement, but he has not done so. That is why we are witnessing the sector's mess."

He commended NAGRAT for calling on the government to cancel the double-track system and revert to the old academic calendar.
He said these, coupled with food shortages and inadequate food supply, limited staff and heavy workload, a lack of infrastructure, and challenges with accommodation, supplies, and furniture, are some of the reasons facing the implementation of the policy.

Dr. Apaak stated that the policy's poor implementation is putting strain on teachers and that their call to return to the trimester system is serious business.

"We don't have to make light of the teachers' concerns. We must take their request seriously. They labelled us as NDC after we expressed our concerns about free SHS. However, it is the teachers who are raising the concerns that we have consistently raised."

He added that misappropriation, corruption, and a lack of commitment on the part of the government have led to these challenges.

He said the government had abandoned what was important and was allocating money to issues that were not prudent, including the construction of the National Cathedral.

"This is a clear example of an inefficient, incompetent, corrupt, and reckless government that has decided to misappropriate resources at the expense of what is important."