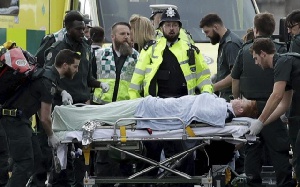 President Nana Addo Dankwa Akufo-Addo has condemned the Westminster attack that left four dead in London on Wednesday 22 March.
"I join the rest of the world in condemning the London terror attack, and sympathise with the families of the dead and wounded. This attack is a stark reminder of the threat terrorism poses to the world and the duty it imposes on us all to help combat this scourge," Nana Akufo-Addo said in a tweet to grieve with the people of London.

In the attack on Wednesday, a man drove a car along a pavement in Westminster knocking down pedestrians, leaving dozens injured. He then stabbed a policeman before he was shot dead by police in the grounds of Parliament.

A woman in her 40s, a man in his 50s, died as a result of the attack, while seven of the injured are still in hospital in critical condition. A further 29 have been treated in hospital.
Meanwhile, British police have disclosed that seven arrests have been made so far.


I join the rest of the world in condemning the London terror attack, and sympathize with the families of the dead and wounded. (1/2)

— Nana Akufo-Addo (@NAkufoAddo) March 23, 2017
This attack is a stark reminder of the threat terrorism poses to the world & the duty it imposes on us all to help combat this scourge. 2/2

— Nana Akufo-Addo (@NAkufoAddo) March 23, 2017