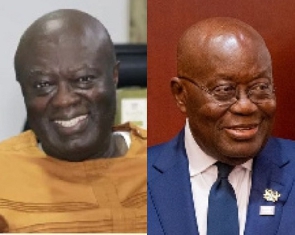 The Chief Executive Officer (CEO) of GIHOC Distilleries, Maxwell Kofi Jumah, has refuted allegations that President Nana Addo Dankwa Akufo-Addo has given him the Sefwi Aboso Glass Factory as a gift as their in-law.
According to him, the allegations are mere fabrications that have been spread by people who want to tarnish his image and destroy his company.

Speaking in a Neat FM interview monitored by GhanaWeb on Friday, Kofi Jumah added that since his son married Akufo-Addo's daughter, he has never met the president in person for him to give him a gift.

"I just heard people saying that Akufo-Addo has given me the Aboso Glass Factory. I didn't know whether the people saying this were dreaming.

"If you see a building somewhere and you don't know about it, you should go and ask the people involved. I have been receiving constant calls from people across the whole world saying that Akufo-Addo has dashed me, his in-law, the Aboso Glass Factory.

"Since my son married his daughter, we have not met in person before. I only see him on TV. What kind of disgrace is this? The person spreading this rumour only wants to disgrace us or destroy my company, GIHOG," he said in Twi.
Kwabena Jumah, son of Kofi Jumah, in a private traditional ceremony, in April 2022, married Nana Addo Dankwa Akufo-Addo's last daughter, Edwina Nana Dokua Akufo-Addo.

The event, according to dailyguidenetwork.com, was held at the seat of government, Jubilee House, and was strictly by invitation for the guests.

Watch the interview below:



IB/BOG